---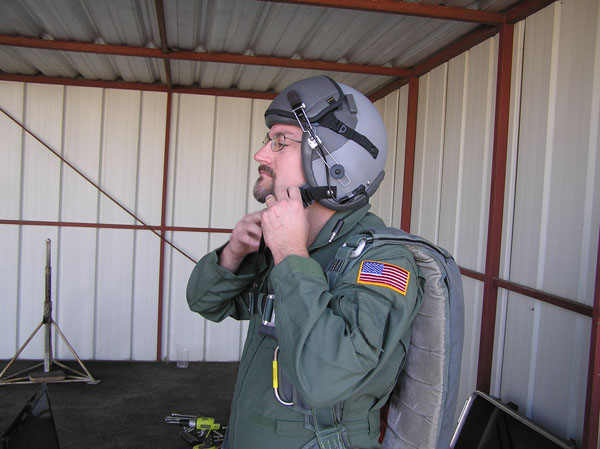 My new business suit.
A little update: (3/1/09): Hi gang. Several of you have sent me email regarding the lack of updates on the website. Well, let me assure you that the Berkut, Sandy and I are all just fine. I've taken a "perfect job" in California that allows me to follow my aviation passions, but it IS one heck of a commute. I'm only back in Texas a few days a month so my time is extremely limited but I still find the time to fly "13". Sandy and I still plan to make it to the AirVenture Cup race/Oshkosh and we're looking forward to Rough River too. I'm still taking lots of pictures, and will post the updates on the website when time permits - whenever that might be. Till then...get back to work on your own project, or keep on flying if you can - We'll see you out there!
(update) It's public now - You can Google "Mobius UAS" for more public information regarding that project and keep up with the latest events and happenings.
---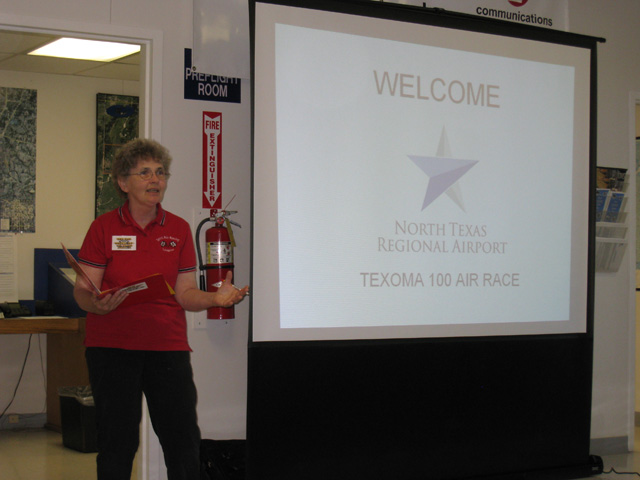 Pat Percell leads us through the pre-race brief
The Texoma100 Air Race: (5/29/09): Due to my work schedule, I was only able to make a single SARL race...and this was it. I was not a great race for me as I almost lost the 2-blade race propeller during the race, but that's another story. A couple days before the race, I put on the 2-blade race prop with a new raw-carbon spinner, cleaned the spark plugs and made all the temporary race mods like ram-air and vent tape. A few tests flights later, I was ready to go. The weather was perfect for racing - cool and calm, and made the short 10min flight up to Sherman, TX a breeze. Soon, I was parked among the fastest of the pack. Duncan Sutherland, Bruce Hammer, and Larry Henney were in the top three spots this time.
The race was well attended and Pat did a great job with the briefing. The race itself went off like clockwork and all aircraft (including me) returned safely. The results were posted shortly after while the pilots and crews were treated to a lunch by the on-field fire crews. We all really enjoyed it. The awards were handed out just after lunch. My time was a little off the mark due to the self-destructing propeller but I still walked away with an award, as did most others.
I was very thankful that I was able to make it back to the airport without incident AND that the race was close to home. Scott Carter came to my rescue...again...by shuttling my 3-blade prop up to me and taking the 2-blade carcass back home. Thanks again Scott!!!
The post-mortem on the propeller seems to indicate that the epoxy (Saf-T-Poxy) in the composite bulkhead of the spinner (between the extension and propeller) became heated during the race and liquefied enough to flow. This reduced the space taken up by the bulkhead and reduced the torque applied to the propeller by the bolts. This allowed the prop to fret and vibrate, causing friction and more heat at the hub. More heat = more flow = additional loosening = more friction...you get the idea. The only thing that kept the propeller on the aircraft is the fact that the race ended - seriously. A few more minutes (or even seconds) and the propeller would have departed the aircraft. SCARRY!! I will not use a room-temp epoxy spinner on my propellers again - I even removed the 3-blade spinner that has performed flawlessly so far.
Now that I work with cutting edge pre-preg composite materials and have direct access to world-class composite talent, I am working on an all carbon, high temp stable, pressure recovery spinner. This is the ONLY thing that will ever go back on this bird! I was also told by Craig Catto, that the sister to my race prop failed at Reno this year under similar circumstances - it was also using a composite bulkhead spinner.
If it works out well, I will be producing these spinners for others that may want to fly with the same security. Updates to follow.
UPDATE: It worked out! ...and now available: The NTX Spinner.
---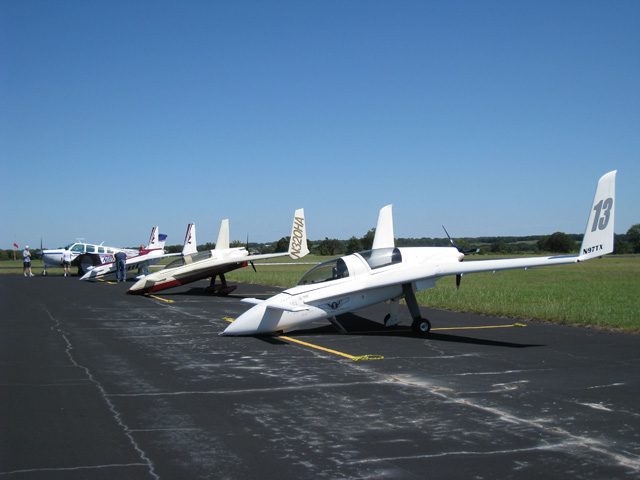 DFW Canards descend on the Hard Eight BBQ
Canards to the Eight: (9/26/09): It was a beautiful day, so Sandy and I hopped in the Berkut and zipped over to Denton to visit some fellow canardians. We had not had lunch yet, so we all decided to take a little trip down to the Hard Eight BBQ. So, we were joined by Doug and Megan Bryan and Ron Gowan. It was a quick golf cart ride down to the restaurant. Hard Eight was great...as always. On the way out, we checked out the new terminal being built. Wow...it's going to be a whole lot nicer than the shack I learned how to fly in was.
---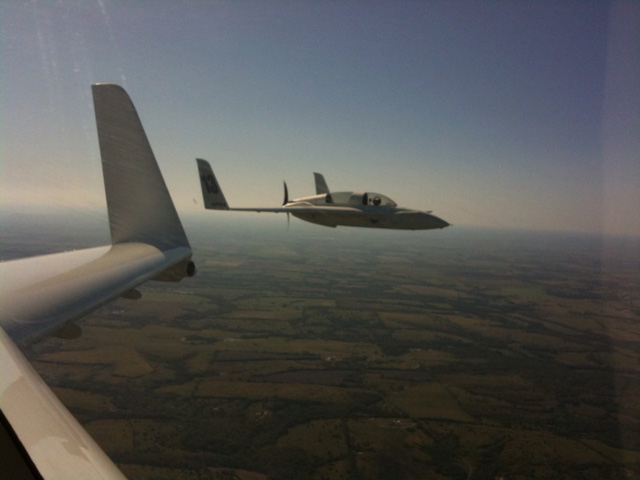 A fun little flight with fellow SARL racer #24 - Rich Guerra.
Formation Flight with Rich: (9/09): While I was home one weekend, I crossed paths with Rich Guerra at the airport. He was going up to put some time on his Velocity, so I decided to tag along and fly on his wing. It was a crisp and clear day (but a little turbulent) and we had fun just zipping around the area. Rich was able to take some pretty good shots of me with his iPhone - switched to the right side, photo angle, and departing zoom-by. Eh, it was a good excuse to go fly!
Well, that's it for 2009...not much, I know. No Sun'n Fun, No Oshkosh, No Rough River, No other SARL races..but trust me...I've been flying like crazy this year...just NOTHING I can post on the web. (sigh) Such is the nature of the work I am doing. It's great fun, but it has it's down sides. Maybe 2010 will have some more "public" activity and if it does, I'll be sure to post it! Happy New Year, Everyone!