---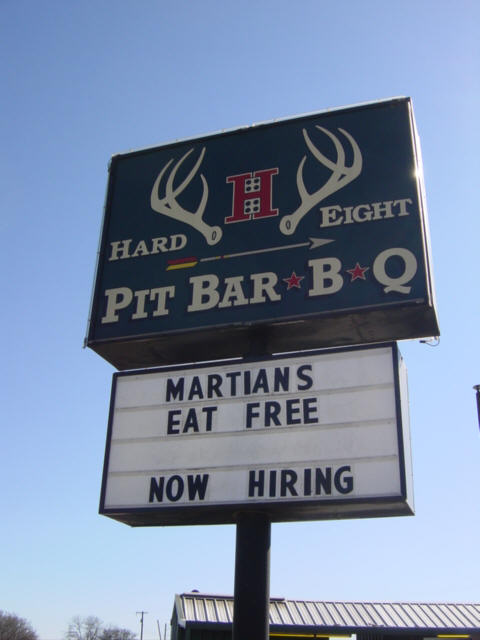 Another "UFO" in Stephenville, TX (1/19/08): OK, I guess that picture needs some back-story. You may have seen on the national news, the story about the UFO sighting by many town-folk in Stephenville a few days before this fly-out date. It was big news down here in Texas as about 100 folks saw this big "thing" in the sky. I won't go into it here, but you can look it up via a Google search. Anyway, the local EAA chapter had a fly-out to Stephenville planned for this Saturday anyway...so I figured...my pickle fork looking aircraft might just make the news. ;-) Actually, it was very cold and windy and the fly-out was officially cancelled, but several of us still wanted to go...so we did. I flew down in formation with Tom Moore (RV-7A). We arrived at SEP and noticed that a few others had already flown in. So Tom and I stuck our thumbs out and hitched a ride on the BBQ Express. It's about a 3/4 mile ride down a dirt trail to get to the restaurant...but that's part of the fun. When we arrived, we were greeted by the smell of some FINE BBQ. You order by the pound, and get the "fix'ins" inside. They even serve the original Dr.Pepper on TAP - straight from Dublin, TX...just down the road a bit. MMMmmmm! Anyway, the lot of us were licking our chops and wondering if we needed to calculate a new CG for the trip home. Good eat'n!
---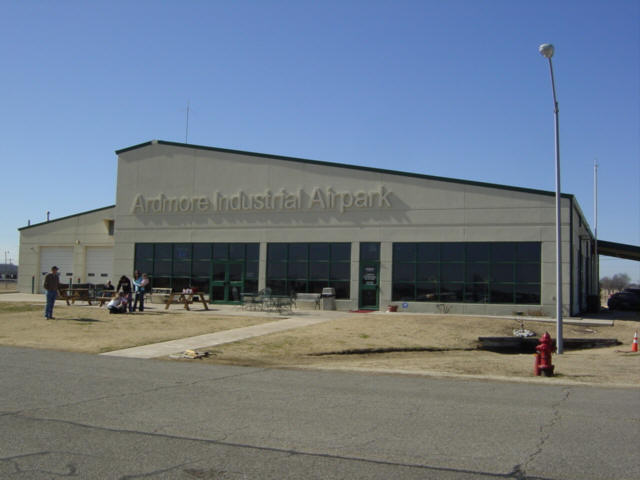 Lunch Run to the Blue Pig (2/2/08): Another favorite eatery is the Blue Pig BBQ at the airport in Ardmore, OK. A bunch of us just up and said "Let's eat pig" and the props began turning. Food is often inspiration enough for us to burn some dino-juce and punch holes in the sky...and this day, we did. We were a motley lot walking up the ramp at ADM. But what was more surprising is that the canards outnumbered the RVs this outing! Pretty neat-o I'd say. Lunch was just that - lunch. So, now that the humans are all tanked up...it was the planes turn. We all headed back via Sherman Muni (SWI) and filled-up with the cheapest gas around and headed home. I flew formation with Scot Carter most of the way while he was taking some pictures. All I could think about was "how am I going to get rid of that draggy belly scoop before race season starts". Well...I'm still "thinking"...and race season is almost here! Yikes!
UPDATE 3-15-08: I have not had much time to fly "13" lately as I have been working on and test flying Berkut #24 (Scott Charlton's) for it's first few flights. So, here I am a month and a half later and the EAA Chapter fly-out is to...you guessed it...Ardmore, OK. That's fine by me...I like the food. I'll have pics up shortly, but I wanted to post the Google Earth file taken from the GPS data logger I use for races. You have to first download and install the Google Earth program itself on your computer - it's free. Once you have that all installed, just click HERE and my GPS track data will be displayed in 3D on Google Earth. Be sure you play around with the pan/tilt/zoom functions to really "see" the track in 3D. You'll note the GPS coordinates are tracked every second and I have colorized the track by speed and the legend is over on the left. I really like this technology - I record each race (or speed run) and go back and analyze my performance. I can see if I climbed too much in the turns, didn't keep a true course line, or was too unsteady in pitch. It's extremely accurate and easy to do. I'll also post some information on the GPS logger itself in the Performance Modifications section. Enjoy!
UPDATE 3-16-08: I finally remembered to bring the camera home from the airport so I can post the pics now. Yeaaaah. First, earlier this week, we were graced by something we don't see very often here - SNOW!. Actually, it snowed two days in the same week...in March no less. Weird. So when the weekend came around...lots of folks wanted to fly...including ME! This made for a good crowd of airplanes at ADM. A few more even arrived aft I took this picture. We even had a little grudge match air-race between two SARL Formula RG Blue Class Racers - that's me and Pete Huff's White Lightening. These are two very fast birds...and we had fun burning lots of fuel and reporting weather back to the rest of the gang. ;-) After hitting the chow line it was back to McKinney. A fun time had by all.
---
Taylor 125 Air Race (3/29/08): (EVENT WEATHERED OUT) Low ceilings, rain and lack of good visability kept the race from being run. I was not even able to get out of McKinney, let alone get into Taylor. So, this one was a bust for all involved. The good news is that everyone is still equal in points and a winning season is still possible.
---
Sun n' Fun 2008 (4/8/08): WEATHERED OUT - Our gang from Dallas waited for 4 days straight for an opening either here, there, or in the middle to no avail. Thunderstorms, stationary fronts, heavy rains, low vis/ceilings...the works. It was just not meant to be for us this year. Reports from folks that made it in earlier in the week indicated flooding in the camp grounds, lots of mud, and airplane parking problems. In fact, the very spot we would have been camping in looked like THIS on Sunday. At best, it would have been logistical nightmare and we would likely not have been able to camp with the airplane - MAJOR BUMMER! So, 2008 is certainly shaping up as a bad weather year...I hope things improve from here on out.
---
The Tornado @ KTKI (4/10/08): Man, this year has really had alot of severe weather! McKinney didn't miss out on that action either when a small tornado hit the south end of the airport! I'm a NOAA Weather Storm Spotter on the side and often get deployed around the county to observe and report severe weather events so that warnings can be issues to the public. Our team tracked this small, skipping Tornado as it passed just south of my house and headed straight for the airport. The next morning I went out and took these pictures: The battered flags still standing; Debris at the front gate from the large hangar at the south end. McKinney Aerospace took a direct hit that ripped a large hole in the roof. It also tore the doors off the front of the building and just barely missed a twin otter in the back. The south flight line was hit too - this Cessna 172 was destroyed when the tail hook was torn off and the plane was pushed forward, breaking the spar. The south "T" hangars were hit too - most all of them had the doors ripped off and some even dropped back down on top of the airplanes inside. VERY luckily, there was no damage to the North end so all the EAA folks were spared the damage. Just another spring in Texas...
---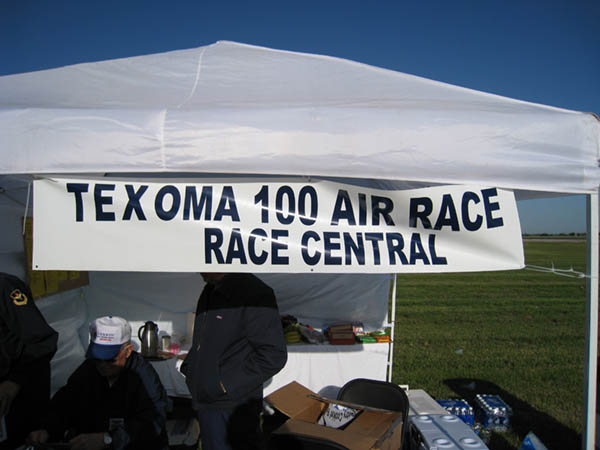 The Texoma 100 Air Race - Sherman, TX (4/19/08): I was really excited about this race since it was the first race with the all the new mods and Taylor was weathered out - this was the season opening race! This one was in my own backyard, just a few miles north at the Grayson County Airport (GYI), so I just flew over on Saturday morning. The flight over was glass smooth and calm...that was not to be the case with the rest of the day, however. There were not too many planes on the ramp yet when I arrived. Bruce Hammer and my rival Larry Henney had camped out the night before and were just waking up. I made my way over to the race tent and checked in. After a bit, more planes started to arrive, things picked up and the starting order began to take shape. Of course, Rene Dugas and the Turbine Legend were in the lead slot. The race was held in conjunction with a Fly-In sponsored by TexomaJet FBO. Nice folks, great service, and good prices. We were thankful for the support. With just a few minutes to go before the briefing, the ramp was getting filled with race planes. I love it! The race briefing was held in the FBO's large break area. A few scant minutes later, we were all taxiing out into position for launch. As the racers say: "when the checkers drop, the bullshit stops"...time to but the numbers up to back up my speed mod claims.
The race was the staggered start in order from fastest to slowest. I was 5th to launch out of about 25, right behind Larry and Bruce. And....there....off!! I watched Bruce take-off, then Larry, then I launched. We were all in the air by the time Bruce got to the end of the runway and began his downwind turn, due to GYI's 9,000' runway. I was watching Bruce and Larry as the turned crosswind, then downwind, then....when I expected them to turn right toward the start line...they didn't. For some reason Bruce overshot the turn point, then Larry peeled off (late) to the right (back toward the start line) and dove - I lost him in the ground clutter. Oh, man...not good. If I turned right now, Larry and I could be in conflict over the start. By the way, the start line was a small grass strip just 2 miles NE from the airport. It is extremely hard to see as the runway is N/S and we are approaching form the West...not to mention it is the same color as everything else around it and blocked by trees. (sigh) So, here I am...not watching my GPS, but looking for Larry...and the start line...and for traffic...and waiting for the GPS to catch up...and looking for the start line....and Larry, well, you get the idea. In short, I had no idea where the start line was now in relationship to me. So, I executed a climbing left turn as briefed and came around for the start in the proper position. A picture is worth a thousand words but a GPS track tells it all. (GPS data logger data, colorized by speed, each point is one second) You can see here, I actually passed well south of the start, but the timers saw me and recorded my time, then didn't capture my second corrected pass. So, I ended up with a penalty lap...oh, well...that's racing. Un-daunted, I blasted on at wickedly fast speeds. The first turn was a very sharp one and I chose a pop-up turn which worked out well - according to the GPS data, I recovered all my energy after the turn. Turn two was not as sharp so I just kept a steady level turn going and kept my energy up. A short time later I was crossing the finish line (now looking south, follow the blue line) which was the same as the start, but I was actually using the GPS this time...(sigh). I smoothly decelerated and turned into the downwind to GYI and recovered with the other racers. A good run, but that penalty lap cost me a lot of time...and thus speed. I didn't beat Larry, but I did post my fastest speed yet @ 256.03mph!!! Now, if the pilot and just do a better job flying...we might just have get that win at the next race.
After the race, the racers and fly-in crowd enjoyed some great food, looked around at some smaller racers and some vendors. In fact, one of those "smaller racers" shared a little Rutan lineage...yep, a baby Race 13! Cute, huh. Some interesting planes also showed up for the fly-in: DC-3, A-4, and many others. I had a good time despite having an "off day" I the air. I've analyzed the GPS logger data, I know where I screwed up...and will be making some changed for next time. Hey, that's what this is all about...the plane can't be the only part of this team that gets upgraded, you know.
---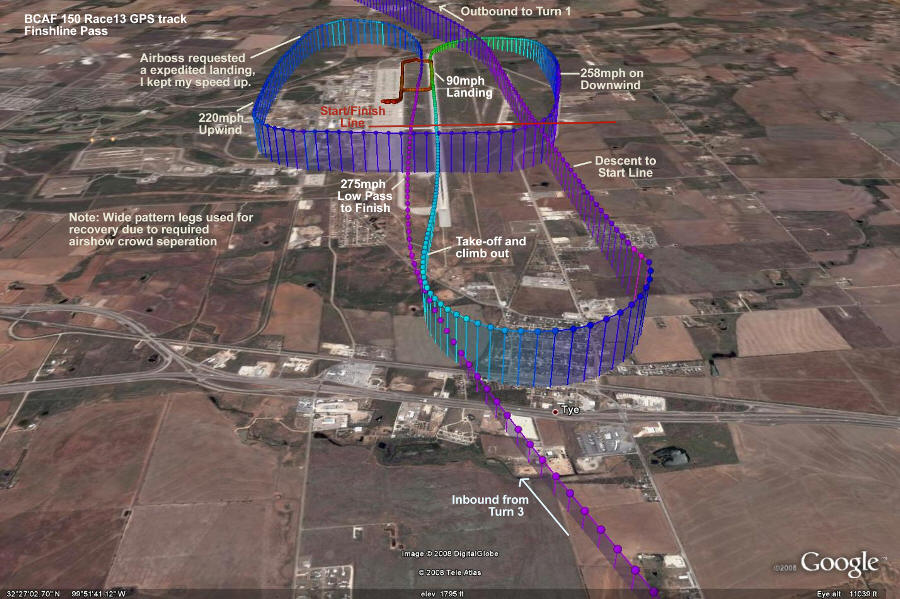 Big Country Air Fest (Dyess AFB, Abilene, TX) (5/2/08): Now, before I get into this one...I have to say that this experience was very rewarding in a personal way. Dad was a pilot in the Air Force, and I grew up an Air Force brat living on several AFBs around the country. What made this very kewl was that the Air Fest and Air Race was all held ON BASE! Not only would we be treated as VIPs, get private tours, etc...but I would get to FLY into and out of a active Air Force base. (This was something I always wanted to do but thought 9-11 put a cap on) I was really jazzed going in!
I was not about to miss a second of this experience, so I arrived the day before the race during the "arrivals window" we had been given. The only issue was that the AF changed the "window", but didn't inform...well...the arrivals (us). So, initially, my requests for clearance were denied...and the controllers didn't know anything about a new time. (typical military S.O.P., I'm told) So, a few of landed at the near-by Abilene Muni airport and sat around until the new window opened. Regional approach help coordinate our hand-off to Dyess but the delay caused a big pile-up of aircraft all trying to land at the same time - about 15 aircraft in the pattern. It was organized chaos, but the female tower controller remained calm and did her best to get us all down safely...and succeeded. So, my first AFB flight operation was not perfect but it was FUN! Here I was...now taxiing across the ramp full of B-1B and C-130s. Kewl! Soon, we were directed into an empty B-1B maintenance hangar to park for the night. Man, this place was BIG - it covered (3) B-1Bs at a time! You can see in this picture, a B-1B in the adjacent bay. After getting the planes ready for the morning race, we all piled into a crew van and headed to Officer's Club where we were treated to lunch. Then it was off to the Flight Operations Center for some Flight Briefings. After the briefings, we were all taken on a tour of the base. We toured (and flew) the B-1B full motion simulators (no pictures allowed) and got some up-close-and-personal time with the B-1B, its weapons and cockpit. We also got personal tours of the C-130s, F-15, KC-135s, A-10s, B-52 and other classic aircraft. It was like our own personal air-show. After several hours, we went back and secured the planes for the night and headed for the base Festival - an annual gathering of the base personnel complete with food/drink and live entertainment. A good time was had by all and we headed off to the hotel to get some sleep.
Race-day morning came VERY early...as in 4:30am. The race was the first thing to happen that day, so we had to get to the base, get the planes out of the hangar, taxi out to the flight line, then pack up and head across the base for the pre-flight briefing. It was a full military-style brief, fast paced, and mostly irrelivant to our race operations. Oh well, it was an interesting experience. Now, rush back out to the aircraft for the race. Being in the front of the pack, I had exactly 30-seconds from the time we got out of the car until engine start! That sucked...but I remembered to turn on GPS logger - here is my race run, via Google Earth: First leg and turn 1 (my and Larry's tracks), Turn 2, Turn 3and Finish and recovery. No need to write much about this one as it's all on the GPS track slides. Needless to say, Larry beat me this time mainly due to his knowledge of the actual winds as he flew in that morning instead of the day before. It was windy and turbulent, and staying low was quite turbulent and I had not yet found the proper configuration of the Berkut for the new race prop...so it was quite a hand-full and it cost me time. Second place again...but it was still very fun!
After the race, most of the planes parked next to the race tent for display during the air show. I spent the rest of the day checking out the warbirds, fly-bys, mock bombing runs, and enjoying thundering noise from the B-1Bs!! Since I didnít really have anywhere to be, I put the Berkut back in the hangar and stayed another night. The next day, I reported to the FOC again to file a flight plan and caught a crew van to the flight line with a C-130 crew. Departure was a non-event and flowed smoothly...as did the flight home. I had a great time...and have a new appreciation for overbearing military process and procedure. But, I must say, our hosts were some of the most accommodating, polite and informative folks I have ever met. We all should be proud of our service men and women - I tip my hat to you all!! Thank you.
---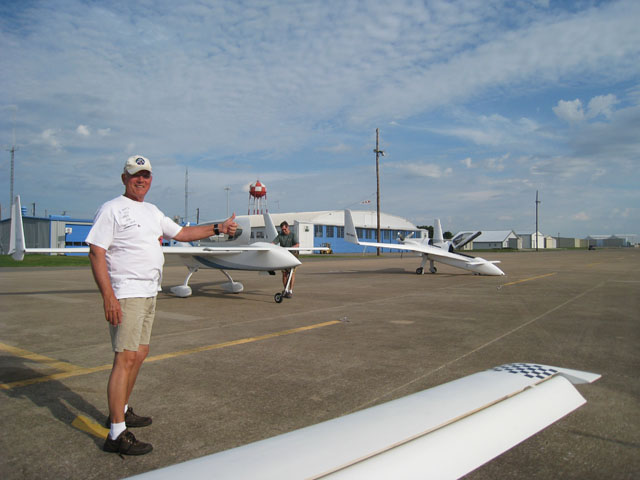 Berkuts 24 and 13 fly together for the first and last time (5/17/08): Now that Scott Charlton's Berkut #24 had been flying for awhile, it was time for him join the rest of the local canards and go fly somewhere. We chose Grayson County Airport in Sherman as Scott was familiar with it, it was local, and lots of runway available as Scott was still getting the feel for his new speedster. I pulled "thirteen" out just as Scott Carter arrived in his Long-EZ - it was to be a 3-ship today. A EAA buddy, and fellow instructor, Calvin hopped in the back with me and was going to be "spotter" for this flight. Scott Charlton hopped into 24 and soon the three of us were taxiing out to the runway and blasted off. We soon joined up in loose formation and Scott Carter snapped a few pictures: Berkut 24 and 13 together 1, 2, 3. After flying around for awhile, we headed to Sherman, landed and parked together on the ramp. There was a Russian transport aircraft near-by and I snapped a few pics of it with thirteen in the foreground. After a restroom break, we headed back to the aircraft, taxied out and headed back to McKinney. A great day! It also marked the first time in over 8 years that any two Berkuts have flown together anywhere in the world. The sad part of the story is that 3 days latter, Scott (Charlton) had a landing incident in 24 at the same airport while practicing touch and go's. Unfortunately, it has not flown since and he is still waiting for the insurance company to pay for the repairs (almost a year at this writing). "24" may still fly again someday, but it is becoming less likely everyday.
---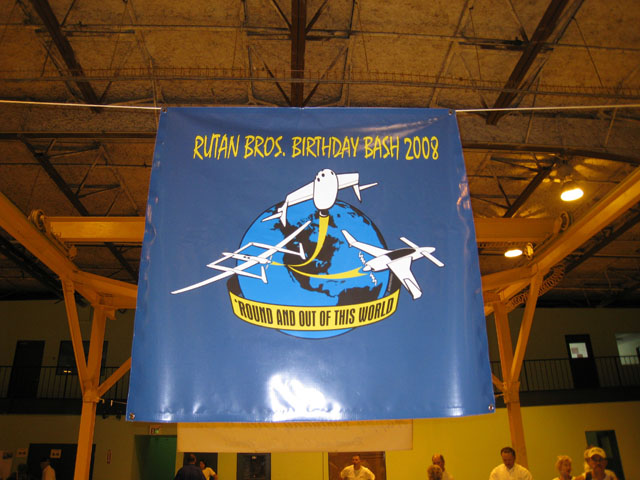 Rutan Birthday Bash @ Mojave, CA (6/21/08): I've said before that I'm working out in California, so Mojave is just an hour driver over the mountains (backseat of Dave's Berkut was already taken). So, when the canard community got invites to the birthday party, we invited some fiends, loaded up the cars and drove on over. It was about 114-degrees when we pulled up to the hangar...I really was not ready for that kind of heat. The flight line was full of canards as expected and Robert's Starship was giving away a ride as an auction. Inside, there were tables and a stage and a nice spread of food. Berkut builders Ric and Shari Lee were in attendence as were some of my friends from Dallas - Ron Gowan, Doug and Megan Bryan. It didn't take long for the tables to fill up and Burt and Dick took the stage. It was a good time of telling personal flying stories and Scaled Composites history. I enjoyed it greatly. After the affair, we had a little meet and greet with Burt, Dick, and Mike. A fun way to spend a Saturday...now, back to work!
---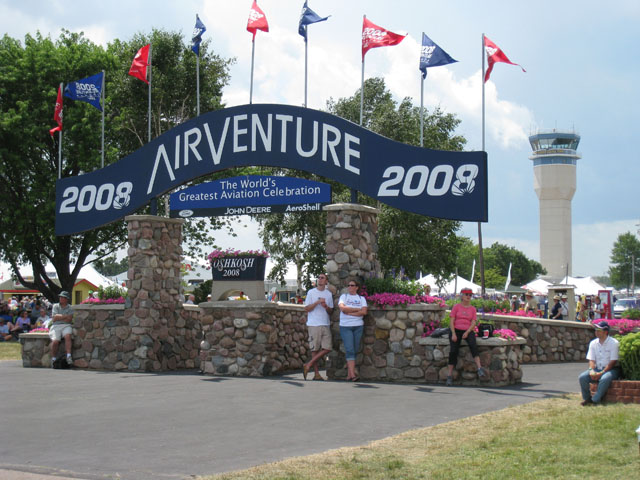 AirVenture Cup Race & Oshkosh 2008 (7/25/08): If you have been a fan of this website, you know this is Sandy and my fourth year running the AVC race and attending AirVenture. You probably also know what it's generally all about. So, this time, I'm going to write more about what was different this year rather than the usually blow-by-blow adventure coverage. So, here we go...
This year was the first time that the AirVenture Cup Race was held out of Mitchell, SD and was mostly a downwind route. Everyone was looking forward to the faster posting speeds thanks to those winds...but it was not to be. The McKinney based racers (Sandy & me, Dave & Susan Wilson - Glassair IIS, Tom Moore - RV-7A, and Rich Guarra - Velocity) were chomping at the bit to get going. Three of us were able to fly together to Mitchell...of course, some folks had to make a pit/fuel stop along the way. ;-) Soon enough, we were all safely on the flight line in Mitchell, SD. We had arrived on press day and some other racers were early as well. I have to say, we received the full red carpet treatment! Before my feet even hit the ground, I was handed an ice cold bottled water by one of the line guys along with a friendly welcome. They were attentive to any need we may have had - helped unload the plane and transported our stuff to the shuttles. Press day was in full bloom, interviews were being taken and things were being setup for the pre-race activities the next day. The banners were already up, the tent and lunch area were also ready to go. After hanging out a bit, we all went to the hotel and settled in, then it was off to a pub for some drinks and dinner. Hey, where else can you get Chislic? Our grand pooh-ba Eric was harassed for a bit, and we called it a night.
The following day was arrivals and public display day, so Sandy and I were back out on the flight line and Race 13 was in display mode. Canard row was filling up, but there was always room for more - Chris and Cas Essylton and their speedy 540RG Cozy. An amazing aircraft... And equally amazing was the actual press coverage - I guess an Air Race was really BIG news in South Dakota. Even Race 13 was asked for a private photo shoot. Even the SD Department of Transportation got into the act of sponsorship. I can not say enough for the hospitality of the fold in Mitchell...a great airport, FBO, and folks. You can check out the Corn Palace there too...if you have the time. As always later that evening, was the Race dinner and briefing. This year, the local FBO donated an old propeller for all the racers to sign and to remain on display at the FBO. Very kewl of them. Now, off to bed to get some nervous sleep.
Race morning came as early as usual, but a few hours earlier I was awakened to thunder and lightning. Weather was going to play a major role this year! All the racers eagerly got their birds ready for flight but just as we are about to line up, the skies grew dark and the call goes out to re-secure all aircraft and seek shelter. I fired up the Garmin and it was quickly known what the reason was - a major thunderstorm was heading our way and another was sitting right on the course. So, we all retreated into the main hanger and waited out the storm. It rained like crazy, but we were spared the golf ball hail and 75mph winds that were just 10-miles a way both East and West of us. Whew! We BARELY got through that one. We continued to wait, as the T-storm seemed to want to run our race course as it was continued DIRECTLY down the course line. The race was delayed some 6 hours, but we finally lined up and blasted off around 3pm. I was at the head of the pack with the fastest planes...so fast, that we caught up with the storm. The racers were all in a straight line until that point, then we scattered. Some chose to punch right through the rain (yellow/dark green on radar), some went over it and iced up, some deviated a little through the light rain, but Sandy and I took the northern route - ALL THE WAY AROUND IT. I was not going to "race" though a decaying thunderstorm...period. So, we passed just South of Minneapolis Class B airspace and avoided all the rain. We still arrived at the finish line with a speed of 245.5mph and 3rd place...not bad, considering the extra miles we put in. Oh well, we arrived at Fon Du Loc in one piece and were gathered with the other racers getting ready for the mass arrival. This year's arrival was a little late, but went off without a hitch and soon enough we were taxiing to parking area...were had arrived at AirVenture once again. Due to our very late arrival, the post-race dinner was postponed to the next day, but we still had FUN.
This year I was going to celebrate my 40th birthday at OSH, so I treated us to luxury accommodations instead of the trusty tent. This year, the Race 13 Pirate's Lair was a camper trailer!! Finally, we had lots of space to spread out and enjoy. Take a look: storage/dining area, kitchen, queen size sleeping area, private bathroom, and even a fridge. I brought the solar charger to keep the battery topped off, but also shared a generator with Scott Carter to run the air-conditioner. (this was handy when I had to login via WIFI and work during some of the afternoons) No more being a speed bump for the other campers in the RVs. But, we still gathered around for the camp fires at night. We were camped in our usual spot, but I noticed one thing that was different - I think the South Africans set this port-a-potty up...cute huh. Sandy got a real kick out of it. We also saw a few things from home. Oh yeah, another reason for the camper this year was to better resist the downpours we had experienced every year previously. It rained a little a couple of time, but never hard. Oh well...figures.
AirVenture itself was about the same...and again, we had a great time. You all probably know what went on there already. There are some things that are always there, but we did see/experience some kewl things this year: being dwarfed by huge aircraft, rockets with wings, airplanes with rotors, and of course...the F-22 Raptors. It was a great time, spent with great people...as always.
All too soon, it was time to go back home. No drama this year...just hopped in, taxied out, and blasted off for home. Man, I love this stuff...it's still hard to believe sometime that I get to have all these adventures and share them with Sandy...and y'all too. Blessed, I am.
---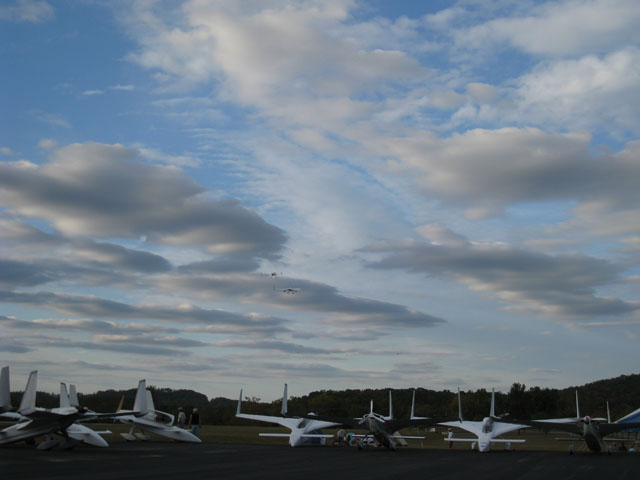 Rough River Canard Fly-in 2008 (9/26/08): Story coming soon.
---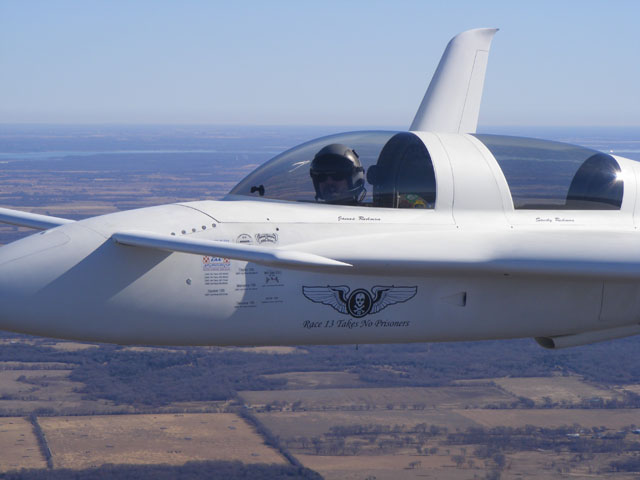 Lunch run formation fun (12/29/08): One of my last flights of 2008 was a lunch run to Ardmore, OK to eat at the Blue Pig BBQ. Instead of a normal flight up there, a few RV builder/flyers and I grouped up and chose to do a little formation practice on the way. After a quick briefing, we blasted off and headed Northwest. I picked up the RV-7 (lead) and lined up to slide...right...into...position. The RV-6 joined up a little further out of position and we headed for ADM. We switched around into various positions and had a little fun in the process. Here are a couple of videos we shot - Berkut and RV Formation, Berkut 13, Left Break!. Of course, it was not all fun and formations...we did actually arrive at the Blue Pig and had some great BBQ. A great was to cap off 2008.
---

Back to the Proto-page