---
First fly-out of 2007 (1/6/07): I've been up a couple of times so far this year but nothing too special to report - just local "fun" flights and the usual cheap fuel runs. The first real event to speak of was a quickly coordinated "$100 hamburger" trip to Sulphur Springs. Actually, it was just a bunch of us visiting at the airport and got hungry...so, we went for food. A short flight later and we were parking on the ramp at Sulphur Springs. The Red Barn is right across the street so away we went. Given the almost 20 people that showed up, you would have thought this was planned for some time. Table 1, Table 2 Well, it made for a great lunch run!
---
Bumming Lunch-run Rides (1/13/07): It was a typical cold and clear winter weekend here in Texas...and for some reason, I chose to sleep late. I got to the airport just in time to see everyone pulling the planes out to go to lunch. Great! I love lunch runs with the gang. Except this time, I didn't fill-up after going out to romp around and didn't have enough fuel to make it to lunch without a fuel stop. (cheapest fuel was the opposite direction) Well, if I'm going to eat, I'm going ot have to bum a ride...and that's what I did! Hey, what an opportunity to fly in some aircraft I've never been exposed to before.
A few hangars down was Jim Sico who graciously offered a seat in the otherwise empty Beechcraft Debonair. Jim's bird is nicely equipped and even has a large backseat & storage area. (what a concept...) Jim and I were ready to go and blasted off runway 17 and were airborne in seconds thanks to the cold, calm weather. Enroute, it was a little hazy but still a beautiful day. I snapped this picture as we passed downtown Dallas on the way to Lancaster. A few scant minutes later...and a little helicopter dodging on short final...we landed. I enjoyed the ride as that was my first time to fly in a Debonair.
We waited for the others to land and join us for lunch. Jim was headed to get fuel before heading back to TKI, so I bummed yet another ride with fellow flight instructor Calvin Coffey. Calvin flies a very nice Cessna 170. It didn't have all the wiz-bang equipment the Beech did and didn't have as much aft storage, but was still outfitted with a primary IFR stack. Heck, it even had a Safe Flight Indicator otherwise known as a stall warning buzzer. ;-) When I got in and buckled up, I was amazed by the visibility over the nose. Hey, this is a tail-dragger, and I can SEE! Calvin started her up and we taxied out to the runway. This shot was taken from my eye level while rolling down the taxiway. Calvin lined her up with the centerline and applied power. I swear it was less than 3 seconds later and we levitated off the runway in about 100ft. Weeee! That was fun. We stayed low, and closer to downtown on the way back. We passed the up-scale tornado magnet and I had a great view into some folks backyards. It took a little longer than normal to get back home, but I was able to do a little looking around and just enjoy the flight. Things happen much faster in the Berkut and it keeps you rather busy on short hops. We were cleared for runway 35 and it was right in front of us. A few minutes later, we were on short final and Calvin made a very nice wheel landing.
I really enjoyed the change of pace and experience with some great pilots and their airplanes. Sometimes it's good to take a break.
---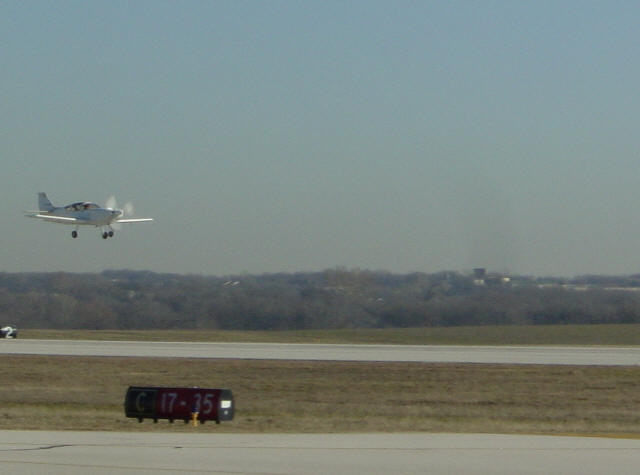 Dave and Susan's Glasair First Flight! (1/26/07): I was lucky to participate in another first here at TKI. With 13+ years in the making, my friends Dave and Susan were about to become "aircraft owners"...and I get another fast airplane on the field to go play with! Yippee! The Berkut and Glasair IIS are both composite speed demons and take A LOT of work to complete. I jumped at the chance to attend the first flight - as I'd also been there all along the way.
The morning of the event, the locals all began to gather at the hangar in anticipation of the flight to come. We all had very high hopes for Dave and Sue. We all knew things would go well since we knew this plane was built was meticulous care and attention to detail. Dave had employed the help of veteran Glasair II pilot and fellow AirVenture Cup racer Don Saint for the check-out and flight advisor program. I can't think of a better person for the job in this area! So, with the based covered, it was time.
One final check of the plane and a click of the on-board video camera...Dave hopped in and Sue joined Don in his plane to fly chase. The two birds purred in unison as Jim Wilson shot some good video footage. They taxied out of the MOHA as a pair and continued down taxiway Alpha to the end of the runway. The weather could not have been much better - cool, calm, and sunny. It was a perfect day for a first flight. We took the golf carts down to the end of the ramp, and listened to the radio calls for the "clearance for takeoff". Soon enough, that moment came where for the first time, the "project" became an airplane! Don followed closely behind and quickly caught up with Dave and soon they were a flight of two. The mission was to orbit the field and work through the basic flight envelope and engine monitoring duties. We all listened to the flight over the radio and watched the "dots" growl around above. After about 40 minutes, it was time to come in for a landing. Don talked Dave around for the setup to landing and followed him down final to a perfect first landing. Dave waited as Don and Sue landed shortly behind. A short taxi later, Dave shut the engine down - First Flight completed!! I'm sure it was as thrilling for him as it was for me some 2.5 years ago. A little victory dance on the wing and the congratulations began! Well, I know it was a lot of excitement for Dave and Susan...but it sure brought back some powerful memories from my own first flight. Wow! What fun is airplane stuff is!
UPDATE: A week later, Dave has 3 successful flights on the plane and only a few minor squawks to take care of. Sue is planning and preparing to take her first flight at the controls in the next few weeks. Me...well...I can't wait for them to complete the 40hr Phase I test period so I can have another local buddy to fly with! Yippee!
UPDATE: Several weeks have gone by - Susan has soloed in the plane and graduated to "Test Pilot" status, only very minor sqawks were reported and fixed, and now all 40 hours have been flown off and the project is out of Phase I testing. Congrats Dave and Susan on one hell of an accomplishment! Now you too get to enter the "Enjoy phase"!
---
EAA Chapter Fly-out to Sulphur Springs (March '07): Well...this was one of the biggest turn-outs for a Chapter fly-out event. The weather was perfect after having just been rather nasty, and it was short hop over to SLR. The only down side was that I forgot my camera! Good thing that several other didn't. So, here's the LINK to the Chapter website with all the pictures from the event. We all had a great time! Enjoy.
---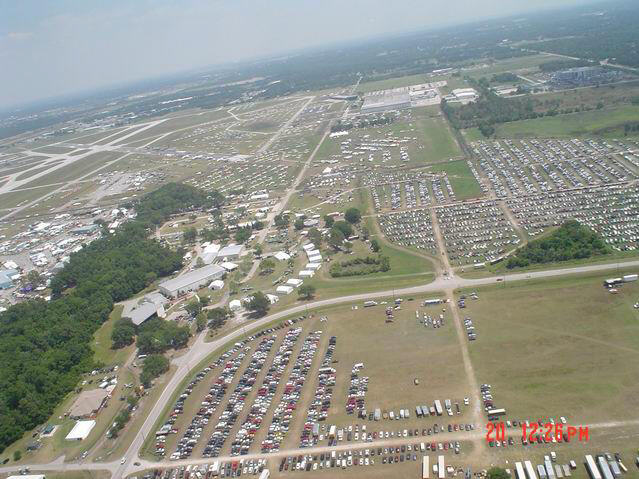 Berkut 13 @ Sun and Fun 2007 (5/6/07): I blasted off for Sun & Fun this year for the first time in my own airplane. Yep, I've been several times in the past, but all were commercial flights. It almost seems odd to be going. It was a beautiful day, once the sun came up - I actually took off before the sun came up (odd for me). Sandy was not feeling well, so she elected to stay home this trip and the backseat became the baggage compartment. Funny thing is that I spent the 2 weeks prior to the trip working my butt off to finish the baggage pods, and didn't even get them done. Kinda worked out, since Sandy didn't go...if she had gone, there would have been no room for supplies. I had a nice tail wind and arrived in Lakeland a little over 3.5 hours later. After I landed, I was pointed to show-plane parking and ended up in the first slot at show-dead-center! Really! Here is show center, and here is where I was parked. Nice, huh. There were a few other canards allready there, and it was just a short walk to registration. A short golf cart ride over to the camping area and I found the crew I would be camping with. My Long-EZ buddies from Dallas (Scott and Doug) were allready there, and pitched the tent next to Doug's EZ. I had a nice front door view of a drainage ditch. ;-) A few of our crew had decorated their aircraft for the occasion - Suzy had her T-craft all spiced up as did Julie & Tom. The shirt hanging on the prop summed up the general rules for the week - no joke! I bet I didn't age a day while I was there as I pretty much remained pickled the entire week. ;-) Hey! I was on vacation, damn it! Ahh...we were quite the motley crew but we sure had fun. OK, off to bed...it's been a long day.
I planned to stay all week so I really didn't care what day it was, didn't have a plan, nothing really to shop for...so I just took it easy. I headed for the flight line to look around and happened onto two of the nicest folk I have ever met - Dan and Monica Wicklund. I just happened to walk by and noticed the Jimmy Buffet'esque inflatable palm trees and pink flamingos in front of their camper. I struck up a little conversation and come to find out, Dan is an ex-Long-EZ builder/pilot! I knew there was a cosmic influence here! ;-) He sold his beloved airplane a few years back, and it even made the cover of Trade-a-Plane Magazine (hanging inside) that month. We exchanged stories, and talked for quite a while over some beverages, and pretty soon it was air-show time. Luckily, I was invited to stay and watch from the RV...as they had quite a nice view of the flight line and the planes taxied and flew right by us. It was a fast friendship, and I found myself back there almost every day that week. Dan/Monica...if you ever read this...truly know how much I enjoyed your company those days, you are truly some of the best folks I have ever known. See ya next year! Hey, maybe the tortoise will be back too. (I never did make it to the flight line that day)
The next, next day...whatever it was...I did finally make it to the flight line. There were a few more canards, but there were still not as many as I figured would be here. I hit some vendor buildings and outdoor tents...you know, the standard air show thing. I was interesting, but it seemed to be more about Very Light Jets and LSAs this year...the standard Experimentals seemed to me a little over-shadowed. Maybe it was just me...dunno. I've lost track of days by now...so, this write-up timeline is out the window. One of the days, we all piled into a compact rental car and cruised over to the terminal building for breakfast at the little restaurant upstairs. If you have not been there, it's pretty nice. There's a balcony out back with a great view of the field and you can watch the planes come and go. A fun excursion. With full tummies, we piled...and I mean piled (8 people in there!!) back into the car for the trip out to the seaplane base.
Geez, man...I had more than 300 pictures from SnF. I have not had time to finish this story! More text and pictures coming soon...maybe...if I ever find time.
Until then...here are just some of the remaining pictures. You can only imagine what stories go with them. ;-) 24, 25, 26, 27, 28, 29, 30, 31, 32, 33, 34, 35, 37, 38, 39, 40, 41, 42, 43, 44, 45, 46, 47, 48, 49, 50, 51, 52, 53, 54, 55, 56, 57, 70, 71, 73, 74, 76, 77, 78, 79, 80, 81, 83
---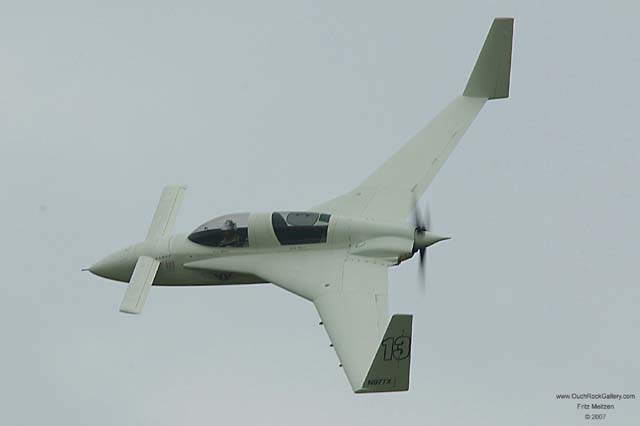 Race 13 Haul'n Ass Around Turn 3 at the Taylor 100 Air Race
Taylor 100 Air Race (5/20/07): It's spring here in Texas and the Air Race season has begun! The Taylor 100 is part of the Sport Air Racing League and is the first race of the season. It's a 100nm (short course) sprint race consisting of a flying start and three pylon turns. This was the first short course style race I have participated in and I learned quite a bit from the experience. I had two objectives for this race - 1.) Test the new race mods and post my highest speed so far, and 2.) to beat my arch nemesis Larry Henney and his super-fast Lancair 360. Luck was certainly on my side as I actually succeeded at doing BOTH!!! Click HERE to view the race results.
The race was scheduled for early Saturday morning, so I decided just to fly down to Taylor, TX (T74) on Friday and camp out overnight. Boy, was that a good idea, as camping with the other racers was whole lot of fun! A few days before, I had completed all the race-mods (gap seals, ram-air, speed tape, etc), packed the plane with the camping gear and finally even got around to putting the slogan under my race logo. Friday afternoon, I flew down in formation with Tom Moore (RV-7A) and Scott Carter (Long-EZ). We even had some time to visually check out some of the pylon turns before landing at Taylor. That was also a good move as none of us had ever run this course before and most of the turns were based on landmarks like water towers and radomes! With the scouting mission complete, we landed at Taylor and setup camp. In good form, I even had the Jolly Roger flying at the campsite! The Hammer Brothers were already there and Tom and Scott setup closer to the food. ;-) Speaking of food, we were just in time for the Hangar Party. Mike Thompson, chairman of the SARL and Race 26, sponsored it at his hangar and even provided the beer! What a guy! We all had a great time as the sun set over Tigger and racers made last minute pit stops for fuel. After dark, all us camper types gathered around in a circle and drank some beverages and swapped racing and airplane stories until midnight. (Shades of Rough River!)
Morning came a little early, but right on cue. My camp coffee maker saved the day by providing that jolt of Starbucks caffeine that I was craving. Steve Hammer was having some issues with an ignition system and we up early tinkering and test flying. Unfortunately, he was not successful in getting it fixed in time for the race. As I worked on waking up the Berkut, some other familiar planes started showing up - Don Saint, Race 52 (Glasair IIS) and Larry Henney, Race 36 (Lancair 360) both DFW locals. I was particularly happy to see Larry because if he didn't race, I would have had no airplane to base-line my performance by. There were several other canards too - Rene Dugas, Race 39 (Velocity), and two Vari-ezes - Ryszard Zadow and Ron Scarbro. (sorry, no pics due to a fritzing camera) There were several very colorful RVs (although no F1 Rockets this year) including Tom Moore, Race 21 (RV-7A). There were a number of factory planes too including a Beech-18, although it didn't race. In all, a great bunch of race planes and pilots to go with them. As race time approached, the line was bustling with activity as racers made final adjustments to their aircraft. We may all be fierce competitors in the air, but on the ground, everyone pitches in to help.
At 8:30am, Mike started the race briefing. I have to say, that Mike did an excellent job in covering the data points and keeping control of the brief! We all felt like we had already run the course and were ready to go do it again! It was RACE TIME! I made another quick walk-around of the Berkut, strapped in and waited for the signal to start our engines. I was second in line to launch behind the Reno racer SX300 and Larry was in 3rd position right behind me - it was a great setup for our grudge match. We taxied out, did a rolling run-up, triple checked the systems and GPS, and launched in 20 second intervals. The Start/Finish line was a water tower about 4 miles West from the airport. So, I tried to get my climb out of the way before passing through the gate. Up to 1200' AGL I went as I headed a few miles north of the S/F, then cut back south in a diving turn to build speed and crossed the S/F gate at 500' AGL doing 228kts indicated! Boys, we have a RACE! This first 11.8nm short leg continued South toward Elgin, TX where a large water tower would serve as Pylon Turn #1. I kept her low and fast as I kept a good eye on the engine systems. The Berkut was running the best I have ever seen! Wow! Only a scant 3mins have gone by, and it's time to turn! I descended a little and made a smooth 2G turn over the first pylon and climbed back up to 500' AGL for the next leg - man, I had forgotten how much turns slow you down. The 2nd leg took us East to the Caldwell airport, some 37.5nm away. Finally, a chance to breath...I actually had 10mins on this leg to listen to the radio chatter of the other racers making their turn calls. But, just as I had started to relax, it was time to climb up above the Caldwell traffic pattern and make the turn. I heard Larry (Lancair Race 36) make his turn 2 approach call right after me so I knew he was close behind...but STILL behind me! What I didn't expect was to hear Race 91 (Bruce Hammer) to make the call immediately after Larry's. Uh oh...someone is having a good race day! That turn was the mid-point so I headed back down to 500' AGL for the return 37.2nm leg and started the "Go, Baby, GO!!!" chant. It wasn't long after that, I heard "Hey Race 13, look out your right window...we'll take a picture of ya". Rats! Had Larry caught up and about to pass? Nope! It was none other than Race 91 (Bruce Hammer) as the brothers, originally starting in position 4, had already passed Larry and were about to do the same to me. Here's a little video clip of that part - Race 91 passing me. Oh well...they're not in my class...so no big deal...and now I have something to watch besides buzzards zipping by me at what looks like warp speed. I flew in trail with them for a bit, but they kept pulling away. We approached Turn 3 (a Doppler Radar dome on North end of Granger Lake) together and as I zoomed around the turn, Luis Orozco took these pics - Race 13 #1, Race 13 #2. Now the final short leg "home stretch" - a 11.5nm leg back to the S/F line! I guess it was the adrenaline, but this leg seemed a lot longer than 3 minutes. Bruce was a little further in front of me now, and I heard Larry make his Turn 3 call...but I could not tell if he was closer that before or not. Bruce was hug'n the deck...and so was I...trying to squeeze the last fraction of a knot out of our steeds. Then, there it was...a lone blur of a water tower zipping by the left winglet - it was done! A quick wing-wag for the timers, and a steep victory climb signaled the end of my sub 30min sprint around the course.
Boy, was that ever fun! I followed Bruce back to the Taylor airport traffic pattern and made a nice air-show quality squeaker of a landing...and headed to the fuel pump. A trail of racers all came in one by one with the same idea. It was a bit like a Canard Victory Row with all us wingletted nose draggers all parked together. It was a great and safe race! We recovered every aircraft without incident and we all gathered back at the hangar for the cook-out and another chance to swap stories about the race. I am often asked what I like so much about Air Racing and this is it - the people and swapping stories. Oh yes, I openly admit I'm a speed junky too...but if that was all I got out of it, I would still feel empty. It's not all about going fast...it's the bigger picture that keeps all of us coming back for more each year!
With our bellies full, we broke down the camps, loaded the planes and headed back home. Of course, as with any return from a trip, there is always the aftermath to deal with. ;-)
Thanks again to Mike and the SARL crew for putting on a great race! I can't wait for the next one!
---
Race 13 Finishes our 3rd AirVenture Cup Race (247.11mph)
AirVenture Cup Race 2007 and Oshkosh AirVenture (7/07): (UPDATED 3-6-08 - Boy, am I late putting this up.) 2007 AirVenture Cup Race Results Sandy and I really look forward to the AirVenture Cup Race every year! It's OUR vacation adventure! This year was no exception and we were blessed with great weather to boot. We also had lots of company as other racers from McKinney joined us this year. Three of us even flew out to Dayton, OH together - Dave & Susan Wilson (Glasair IIS) and Tom Moore (RV-7A). Well...at least to the first fuel stop for them - the Berkut's long range let us motor on in one hop. ;-) Rich Guerra (Velocity RG) and his dad also went but left a little after we did. It wasn't long until we arrived at Wright Brothers Field and parked along with the other racers. There was even one of the last remaining Starships on the ramp. I think the owner's son was looking to buy one of the canard racers or something like that. I wanted to move the Berkut up and take a picture, but it was just too difficult with all the kids and spectators walking about...oh well. After grabbing a bit to eat, signing in, and catching up with folks...we all loaded up and bussed over to the race dinner. This year, it was heald at the Engineer's Club and the race briefing was held after dinner. No pictures, but it was a great time!
The next morning was Race Day! It was great day for racing. The ramp slowly came to life with activity as racers got their planes ready. That time pasted quickly and soon it was time to launch. Sandy and I got in line and taxied out to the start line and away we went! No time for pictures during the race...it was a FAST one this year. ;-) We cruised over the countryside, zipped around the pylon turns, dodged kamikaze gliders, and crossed the finish line with gusto! Another great race under our belt!
We recovered from the race at FonDuLoc and arrived into an increasing sea of racers. Really...I'm somewhere in this pile. My main competition arrived safely too - Larry Henney & his son, Mark Ravinski. The "rookies" all made it OK - Dave & Susan Wilson, and Tom Moore (dunno where he ran off to). It was an early morning, and the adrenalin rush took it's toll...so I countered by taking a nap. ;-) At least I grabbed a few minutes before it was time to line up for the mass arrival into OSH. With Kevin in lead flying the Nemesis NXT and Eric in the Citation Jet, we all lined up fastest to slowest...or there about. I was leading the canards but that didn't matter much as were are all just in a long line. Sandy had the best idea and just hung out on the Berkut. The arrival itself didn't go really as briefed - the tower controller dropped us completely and told us to just "work it out" after they took it upon themselves to change the already agreed upon arrival procedure. Niiiice! It made for a very...uh...interesting...improv VFR arrival of 60 some-odd airplanes. No one swapped paint or screwed up...so it was declared a "success" and we were all officially at AirVenture 2007!!!
Sandy and I setup a pirate camp and made it back in time to go to Wendt's for the post-race dinner. A few days later, the race awards presentation was held at the Homebuilder's HQ and our fearless leader Eric Whyte was again Master of Ceremonies. Dave & Susan even walked award with a 3rd Place trophy on their rookie year! The rest of the week, Sandy and I just...well...enjoyed our vacation at OSH 2007. There was sun, rain, hot, cold, and all the usually stuff too - no need to bother you with the details. (besides...I'm so late with this...there's little point) I short, a GREAT TIME!
---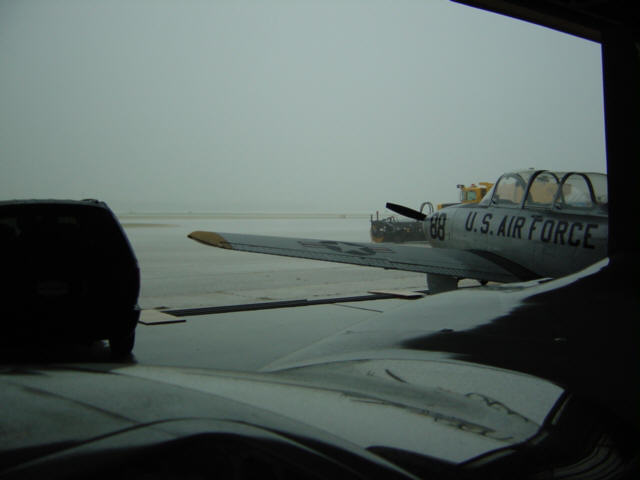 The SARL race that was just not to be...
Big Country Air Fest & Air Race 2007 @ Abilene, TX (8/07):

I had high hopes for this race as it would have been a rematch between myself and my closest competition - Larry Henney, Lancair 360 Race 36. Except this time, he would not have a "team mate" helping him and I had just completed the winglet intersection fairings to bridge the speed gap. It would have been a good nail-bitter of a race! But...ERIN had other plans.
I got up really early on Friday to try to beat the approaching weather system - the spiral bands left over from Tropical Storm "ERIN". I checked weather and saw that there was a break in the bands and headed for the airport. The plane was all ready to go, so I hopped in and blasted off for Abilene...just before some rain moved in. I was too busy checking weather on the Garmin and talking with Flight Watch on this short trip to take and pictures. But, one expedited approach later, I was on the ground...and was the first plane to arrive. Since there were heavy thunderstorms on the way, I asked for some cover...and the wonderful folks at EAA chapter 471 were happy to provide it. Funny...my one litle Berkut in this HUGE hangar. (that was about to change) The sky was getting worse and I was beginning to wonder if I was going to be the only one that shows up when Mike Thompson comes scraping in. Just in time too...the rain was not far behind. While Erin was doing her thing, we helped get a few things setup in the other hangars. Later that afternoon, it cleared up a little bit and the Military started moving their birds over. A couple of C-130s, T-6 & T-27s, and even a T-39. The Hammer Brothers showed up a little while later and moved into the hangar. Oh yeah...more rain. Cam Benton and his wife Tracy barely made it in before the really heavy stuff hit.
Tired of watching it rain all day, we all headed off for the hotel. The air show folks provided the racers with hotel rooms - which sure worked out better than a tent in a 2-day long thunderstorm. Hey, it stopped raining...OK...lets drink! We walked down to a...get this..."Restaurant & Saloon" called the "The Beehive"...a few blocks away. We ordered up a few rounds and had a good time talking with the owners. They were famous for HUGE Long Island Iced Tea...Cam said it was good until we could no longer feel his lips. Dinner was absolutely fabulous! I mean truly 4-stars! I had the best Sea Bass I have ever come across - if you have the chance, check this place out! They even had a Things to Do sign in the bathroom. ;-) One small problem...we walked...and you guessed it...it's raining again! Mike graciously ran back to the hotel and fetches the van so the rest of us stayed rather dry. We all retired to out rooms for the night. I tried watching TV but it was raining SO HARD that the satellite TV was out. (sigh) So I called Sandy and went to sleep...to the sound of pouring rain and thunder.
Morning came early...but not much better - lite rain and low clouds. We were all surprised to find Larry Henney already in the hangar waiting for us. Some of the other air show acts were able to make it in too and had been tucked away. Our 8am launch time came...and went...wet. So...THIS was the morning air show. (bummer) Occasionally, some Military equipment would break out of the clouds on an ILS approach, pour on the juice and make a bunch of noise. Actually, sometime around lunch there was just enough sky to fly the local air show routines...and the show went on...such as it was with about 200 people in attendance (out of the 25,000 expected). ;-( We tried one more time at the end of the day to get the race off the ground...we even edited the course to keep it closer - but by the time we discussed it and re-programmed it in the GPS, the Garmin was showing rain on the course again. Grrrr! Cam called Flight Service for a briefing and they basically described the apocalypse and the second coming was headed our way. So, we bowed out heads and mourned the loss of this year's BCAF race. These birds would have to race another day.
We all headed back to the hotel to get cleaned up for the party...at least IT was inside the main hangar. When we headed back out a few hours later...we were met by tables and chairs being setup OUTSIDE! Oh...and not to forget the blue sky and spots of sunshine. So much for the great flood. Oh well...it was over...it was time to un-wind and relax. Chapter 471 were gracious hosts complete with banners! Steaks and fix-ins were being prepared and we had already hit the bar. The Military boys gave us one last fly-by as they departed the area. The party was rather sparsely attended, but we were having fun...and so were a few furry friends. We drank and ate our fill until it was time to head back to the hotel. I was ready to put this day behind me.
Departure day was...uh...not as forecast...and was nice. We pulled our planes out and gave them a very careful preflight as they had been poked and prodded by all sorts of people milling through the hangars. I watched everyone blast off...and shortly did the same. Well...there you have it in all it's wet detail. I hope Lubbock is drier!
---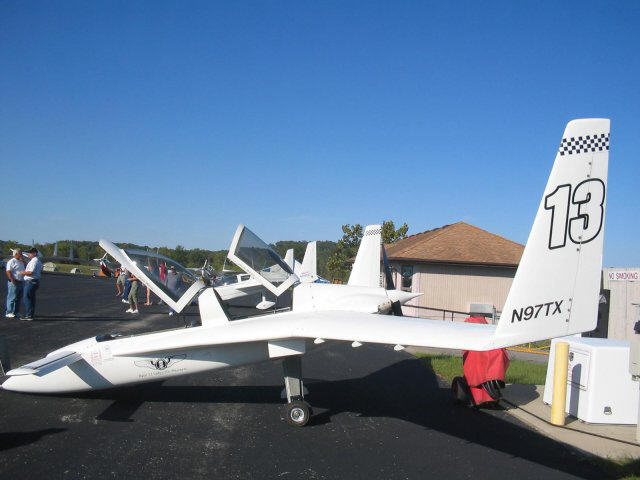 Berkut 13 was back again for another great year!
Rough River Canard Fly-In (10/1/07): (Story and pics coming soon)


---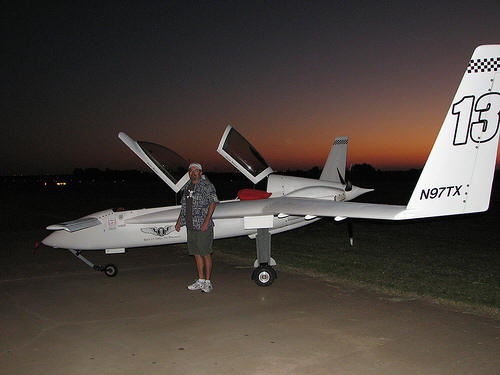 Race 13 came in 2nd place @ 234.20 mph (16sec behind my rival)
West Texas Air Race (10/07): I was really looking forward to this race in Lubbock, TX since the Abilene race was rained out. This would be another chance to run with the new winglet fairings and see how they do. However, I was not expecting to post very high speeds due to Lubbock's high density altitude. Still, any chance to beat Larry's Lancair 360 (Race 36) is sure to be a good time! ;-)
I was planning to stay with Cam Benton (Race 41 flying a RV4) and his family and was again the first racer to arrive. Cam was there waiting and we pulled the Berkut into the hangar and parked it for the night. We had a great view of the runway and surrounding cotton fields. As I was cleaning up Race 13, Jim Hogue pulled up in his Mustang II and pulled in as well. We chatted for a bit then headed to Cam's house for dinner. Cam and his wife Tracy welcomed us with some great Texas hospitality. We relaxed on the back porch for a while and drank a couple beverages. Cam fired up the grill and made some killer brats and Tracy made quite a spread of fix'ns. A few other racers came over for dinner too, and joined us on the patio. We all had a great time. Last call was about 10 pm) (I think the camera was a little tired too) and we called it a night.
The next morning came mighty early! Neither the Berkut or I are used to getting up before the sun. As it peeked above the horizon, however, it cast a kewl shadow on the hangar doors. While I was hunting a source of caffeine, the other racers began to arrive and line up. The race briefing went off without a hitch, and we all taxied out in starting order. We took of in staggered fashion and blasted out onto the race course. This course was mostly flat except that turn 2 was below the cap-rock. This made for a really fun descent over the cliffs, down low over the turn, and a zooming climb back up the cliffs onward to turn 3. This course also had 4 turns! They really kept us busy in the air! As we all came zipping over the S/F line, our beautiful time keepers plugged our times into the computer. It looked like victory lane after the race with all the planes lined up fastest to slowest. We all turned in our GPS units for turn point verifications, and gathered for the awards and lunch. Unfortunately, the scheduled canyon run was scrubbed this year since the wind and turbs had already picked up - maybe next year! My buddy Don Saint won the main door prize - a ride in the Steerman donated by the community hangar's owner. We all had a fun and safe time and look forward to next year - Thanks Cam!
The trip home was quick, but the closer I got to DFW the thicker the clouds got! I finally had to dip under the overcast and slug my way to Cleburne instead because McKinney was IFR! It worked out well...I spent some time with my parents, waited for passing T-storms to clear our, and zipped on in later that afternoon. Now...what mods can I get done before the next race?!?!
---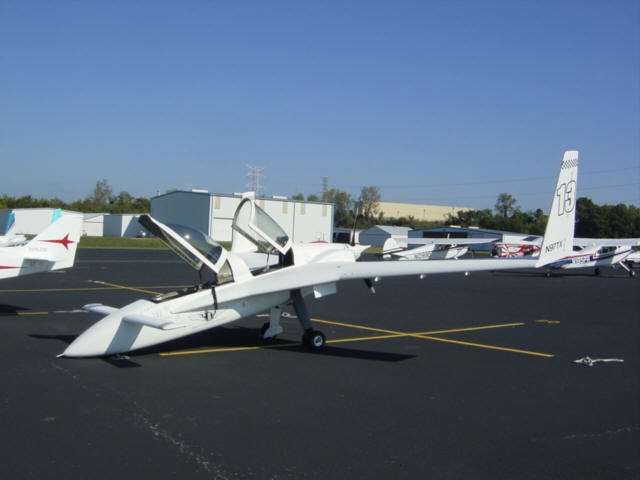 Race 13 takes 2nd place again and posts 243.38mph doing it!
Memphis 100 Air Race (10/07): You know, when I arrived in Memphis the day before the race, it sure didn't look like the picture above - it looked like this. It was cold, wet, and cloudy...MVFR...all the way across Arkansas and Tennessee. The last 30-mins into Memphis I was flying through mostly constant rain. Yuck! Like shades from Abilene, a low pressure system was sitting on top of Memphis and had been for 3 days straight. I parked next to Rick Pelliccotti and his Long-EZ RG. Larry and Don were already there along with Mike Thompson, the Hammer Brothers, and lots of Rockets. Some other notables were Sam Hoskins in his Quickie, and Rene Dugas in his Turbine Legend (our lead ship, obviously). All of us spent the rest of the afternoon shivering and trying to stay dry while putting the planes up for the night. As the sun set, it really started getting cold so we all loaded up and headed down to Beal Street in downtown Memphis. This is a realy kewl area with hopping nightlife. We had reservations at a little place called The Flying Fish. (That thing on top is a giant catfish with A-26 wings) It's a neat place complete with a Bubba Bass wall...no kidding. We all ordered various things and I heard no complaints over the voracious eating going on. It was really good! As usually, we all headed back to the hotel after dinner and tucked in early to get a good night's sleep before the race.
The next morning, I was not expecting to see good weather...but I was pleasantly surprised! The planes were soaking wet but there was not a cloud in the sky! All the racers spent the next hour wiping the water off the wings and warming up the oil. The briefing was short, concise and well prepared. We all left the briefing confident of what we had covered...it was RACE TIME! My only criticism (and it's a very minor one) is that they launched a much of Harmon Rockets in front of Larry, me and some other faster racers. This sets up a potentially dangerous situation at the turn points as we are faster, we are likely to catch up to the slower planes and have to pass them at some point. And that's exactly what happened - I heard Larry passing 2, 3, then 4 Rockets...and having to dodge them on one of the turns. I caught up with 2 of them myself and passed on the straights. Having a big engine does not necessarily mean you go faster than a plane with a smaller one. I hope this doesn't happen again, but I have to admit...passing someone on the course is rather fun. "Arrr, I have you now Matie! Looks like you be stuck in the doldrums! HA-HA!!" Ah...anyway...no harm/no foul, no body swapped paint and we recovered all the planes we launched so all is good. Once everyone finished the race and made it back to the ramp, most headed for the fuel farm. While some folks were fueling, the local CAF chapter got the the big toys out and flew the Sea Fury around the patch a few times. What an awesome display of raw power and speed. Once everyone put their tongues back in their mouths, we headed in for the award presentation. As the title said, I took 2nd place again. Larry had a great run this time...and broke into the 250's. It was not all bad - I did get a full race test on the new cowl/prop extension and am happy to report it worked perfectly - the cabin is VERY quiet now and NO harmonic at all. No speed increase, but that was not what I was really after anyway. As a side note...you might have recognized the unique airplane in the "power and speed" picture above - it's a Cirrus VK-20 that was recently featured on the cover of Sport Aviation. Unfortunately, it had an engine failure on take off and went down on a sand bar and suffered severe damage. It looked like a really nice aircraft with some sort of turbine engine. By the looks of what was left of the prop, it sure seem like it was turning when it hit. Oh well, I'm no expert...and it was time to get back home...so, I blasted off and was treated to tailwinds and clear skies all the way back to Dallas. Thanks Rick and Jeff - you put on a great little race. See ya next year!
---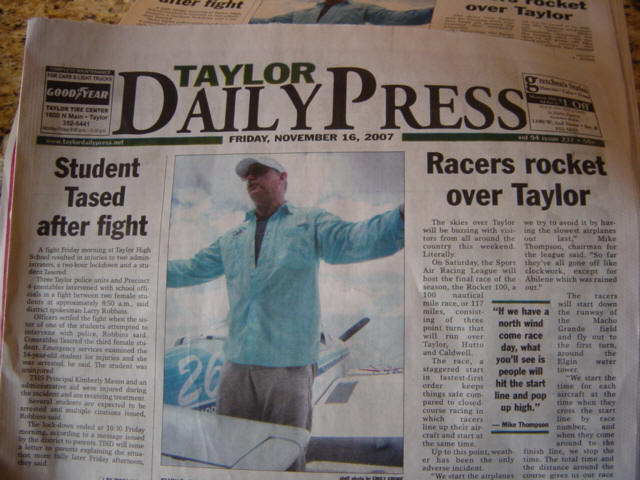 The "Rocket 100 Air Race" is big news in Taylor, TX!
Rocket 100 Air Race (11/17/07): It was a beautiful November day here in Texas when I departed Addison for the race in Taylor. Yeah...Addison. My home airport was being torn up and closed for 30-days for a runway replacement so I had to evacuate to Addison. Scott Carter was gracious enough to share his hangar with me for awhile so I could keep flying. Anyway, the trip to Taylor was clear and fast. When I landed and parked, there were already several familiar faces (and planes) on the ramp. On one side, Duncan Sutherland was cleaning up his SX-300, and on the other I noticed a very aggressive looking F1 Rocket with a very toothy grin. OK...so I'm in good company. ;-) Unfortunately, I was quickly given word that a fellow canardian, Jack Morrison (E-Racer, Race #29) had a nose gear problem and was busily making repairs. I quickly tied the Berkut down and ran over to see if I could lend Jack a hand. After a few hours work, I was ready to check in to the hotel across the street. It was quite nice to have accommodations so close to the airport. At the hotel desk, I noticed a stack of local newspapers...I was surprised to see Mike and Race 26 on the front page. They did a good job interviewing Mike and writing the story about the SARL and the Rocket 100 Air Race. Here's a readable version of the article: Page 1, Page 2. After a quick trip to the room to drop off my stuff and it was time to hitch a ride to Macho Grande for the pre-race dinner. Macho Grande is a private grass strip where a couple of Rocket guys hangar and one couple lives. I believe it is also the home of "Team Rocket" - there was even a Rocket under construction that was going to have a IO-550 power plant. The main hangar was setup for the seating area for the awards banquet and the trophies were on display as well. Team Rocket's Beech 18 was parked in the grass looking longingly at the sky. The race dinner was held on the back porch of the house where some very tasty Fajitas were served! Everyone had a good time swapping stories, telling lies or just hanging out. After dark, it was time to head back to the hotel to get some sleep for race day was just a few hours away!
The race day forecast called for low overcast and showers in the morning...and it was right on. It rained a bit before I left the hotel and got some breakfast and by the time I headed to the airport everything was quite soggy. I guess it was a good thing I didn't camp by the plane this time. So...just like the last race in Memphis, I spent the morning getting the water off Race 13 and warming up the engine oil. With towels and squeegees in hand, everyone was wiping and wringing all morning. After an hour or so, it started to clear up over Taylor and several racers began to fly in - including two important contestants, Larry Henney and Don Saint. I noticed right away that Larry was sporting a brand spanking new Catto race prop with a wicked profile! I guess I had Larry so worried when I was only 16 seconds behind him in Lubbock that he spent the big bucks to regain a better speed margin. ;-) Ain't race'n great! Mike gave his signature race briefing while all the racers listened attentively. However, a quick check of the Garmin 396 XM weather revealed that although it was clear here in Taylor, there was some significant rain on the course. It was moving out of the area so Mike wisely called a 30-minute weather hold for launch. We watched the radar display as the rain cells moved off the course and began to taxi out right after the hold expired.
The race itself was pretty much by-the-book standard. We had a flying start, which meant that we took off out of Taylor and headed for Macho Grande. We were to make a low pass down the runway and the timers would start us as we passed the wind sock. You can see how it went by watching a video clip here: Race 13 Start! (4.7mb WMV) It rained on me most of the first half of the race. The Garmin was VERY accurate with the rain showers. It was the "light green" pixel variety and the rain drops started hitting the canopy the instant the airplane icon entered a green area. XM weather is worth every penny! Anyway...the rain causes the canard to "hunt" and a stable trim setting is not possible. This cost me some speed, but it's impossible to know exactly how much. (oh well) By the time I was on the way to turn 3, the rain was completely off of the couse and the Berkut was running and flying great! I didn't pass anyone this time, but I sure caught up with some Rockets that launched in front of me. I crossed the finish line just a second or two after one of them. The finish line folks had to ask me for my race number again because it was so close. Hehe...fun! With the course finish, I followed the Rockets into the Taylor pattern and landed.
Another exhilarating race was completed and despite the pitch hunting in the rain, the Berkut performed very well. As the other racers recovered, the once short line for fuel kept growing, so I decided to just wait for gas...I was in no hurry to get home anyway. While we were running the course, Scott Carter had arrived bringing critical replacement parts for Jack's nose gear strut. After everyone had been recovered, we all flew or drove over to Macho Grande for the awards banquet. As the crowd gathered there were several planes that flew over and we had the makings of a little air show. In fact, the RV formation team "Falcon Flight" flew a tight performance over the field right before lunch. Texas BBQ was the menu and it was very tasty, some of us even went back for seconds. Mike gave out the year end awards and we all slowly disbursed. This was a great race to cap off the year - Thank you, Team Rocket. Great job!
---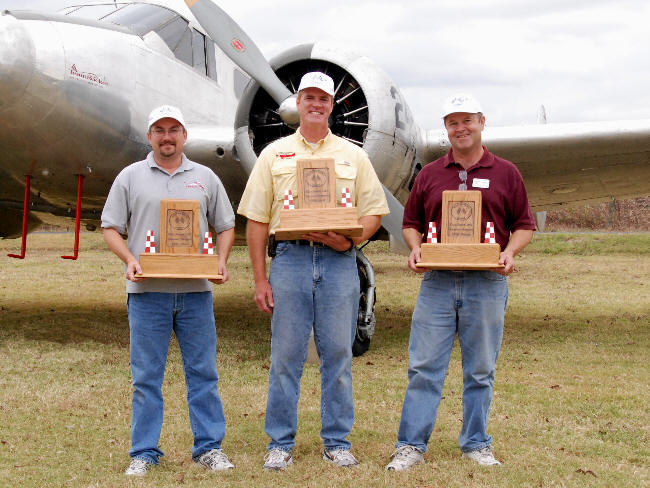 Race 13 takes the SARL 2007 Silver National Champion title
Sport Air Racing League 2007 Season (11/17/07): (write-up coming soon)