, and big ones. They were all having a ball with the cold, wet climate.

Steve Wright and his Stagger-EZ was again a star attraction and always drew a crowd. Dispite the off-and-on-again rains, he gave multiple rides to interested folks. AirVenture Cup Racers Chris Esselstyn his wife Cass (Race #54), and their Cozy 540 RG made their second journey to Rough River. He flys quite a bit of IFR in his Cozy and was un-daunted by the rain, giving several people a ride - including Scott Carter. It won't be too long before we see Scott's 540 powered version of an RG Cozy. Did I mention last year that Chris' bird is wicked FAST too! Otherwise, most of the day was spent just mingling with many of the RR regulars and checking out airplanes...like Ken Brimmer's EZ sporting a new Catto prop. Bruce Vinniola and his E-Racer made it for the first time this year - I'm sure he'll be back for more fun next year. I was also thankful for the great cover that Dorothiemarie Dickie made for me - it worked perfectly in the pouring rain. - didn't have to bail the nose out this time. Hey...yet another AirVenture Cup racer parked next to me - it was none other than #93 Tim Trainer. Ahh...I have to say the two race planes look good together...ah, man...more rain! My buddy Ron Gowan camped next to his EZ and even managed to stay dry this year. In between some morning rain showers, DFW native Bill James launched his Vari-EZE and headed back home (he made it OK). As did my buddy Graham Shevlin who left early to visit a friend further out east...into the rain of course. The rain did let up just long enough for the Cozy group to fire up the grills and provide us all a nice little lunch. Thanks guys! Then, I was back to the ramp to look at more planes. This year, we even had a little Quickie drop by for a visit. Just about the time I made it to the end of the row...again with the rain...this time, complete with lightening. OK...seek shelter. My buddy Doug Bryan and I chilled out under the terminal building's awning while the little shower passed. Except, it never really stopped...it just kept getting heavier. Now, everyone was huddled in the terminal building so we just took the opportunity to chat with folks and watch the rain. It was really coming down now and starting to flood a little. One last down-pour...and it was done...just like that. We all checked out planes and tents, then came back for the CSA meeting back at the terminal. After that, we all went to dinner back at the lodge, sat around the camp sites and told stories and then called it a night. What was really cool was after dinner, a dense fog had rolled in. The runway and PAPI lights were really neat looking and all the winglets sticking up in the fog was quite a sight! No way to capture that in a photo...too bad. Overall, there sure was not as much going on this year because of the weather...but, you know...everyone I talked to had a great time anyway. That is simply the sprit of Rough River. Great stuff, huh.

Sunday started with that same dense fog...no one was going anywhere for a few hours, so many chose to sleep in - that included Sandy and I. ;-) When we finally made it out to the ramp, it was already bustling with activity. I pulled the Berkut in line for fuel and watched planes take-off while I waited. Scott Carter and Doug Bryan took off in formation and came back around for a surprise tight formation pass. Vance Atkinson and his wife Lynn also headed back before us. Packed up and fueled up, we waited for our turn to take off. I coordinated a few photo passed with Don Jones and blasted off. We circled around and made 3 low passes for the video-op...and I hope to have that footage posted here soon. On the last pass, we made a climbing right turn onto course, and headed home. It was a beautiful day and Sandy was enjoying the view...while letting her tummy re-set after those passes and steep pull-ups. ;-) One thing that we saw that was odd (for us Texans, anyway), was the flooding around the Mississippi river. Those are not lakes...those are fields down there. Now we know where all our rain has been going to. Wow! Another great Rough River trip under our belt. We're already looking forward to next year!

A special thanks to Bruce Layne, Dave Philipsen and Jim Price for some of the pictures used in the section above.



---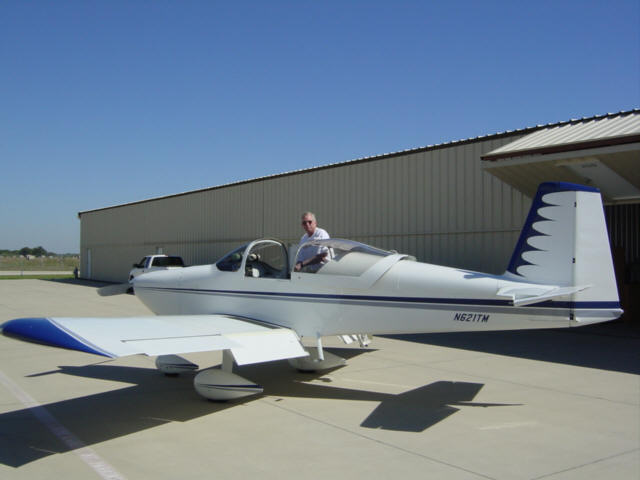 Lunch Run in my buddy's RV-7A (10/07/06):
The weather was very nice again the weekend after getting back from Rough River. So, I headed out to the airport to fly the Berkut up to Sherman, TX for some cheap fuel ($2.65/gal.) and do some aerobatics practice. When I got to the airport, all the local guys were just about to launch for a lunch run to Sulphur Springs, TX for lunch. I didn't have time to fly up to Sherman first, and I was not about to pay $4.69/gal from the FBO...so, Tom Moore offered me a ride in his RV-7A. I had given Tom a Berkut ride a few weeks earlier, and I this would be "return in kind" ride. Kewl! I've never been in a RV-7A...just RV-6 and 6As so far, so I was looking forward to this. I stepped in, buckled up, and then Tom got in. The bird has a nice VFR panel with some nice gear. (Tom just upgraded to a Garmin 496 but had not yet installed it) Visibility over the nose was pretty good on take off. But, what caught me by surprise was the leap off the ground that happened at rotation. I've gotten used to the canard lifting, and then the main wing flying a second or two later...these high aspect wings were happy to fly immediately. My right hand view was quite nice as I watched the hangars and tower go zipping past. Left side view...not so good as can be expected in a side-by-side configuration. In cruise, the forward visibility was good, as was the right side. However, the wing was right there block the scenery as you looked down. Oh well...as Tom pointed out, if you want to look straight down, just roll the plane over. ;-) Before we knew it, we were approaching our destination (hey, what's that black thing in the picture?) and entered a traffic pattern over the lake. Turning final I realized something a little different...we were going to be very high. Oh yeah...flaps! That's something else I have become very used to not using. With the barn-doors hanging out and making plenty of drag, we floated right down to the numbers for a very nice cross-wind landing. We taxied up to the terminal and joined the others for some burgers across the street. I got to fly on the way back, so I didn't take any pictures. Tom built a very straight and stable airplane that is fun to fly. It was very lite on the controls and needed no rudder or cross-correction to remain straight and true. Good job, Tom! In all, I was a fun flight and I enjoyed it. I can't wait to do a little formation work and "fun" flying with Tom in the future.



---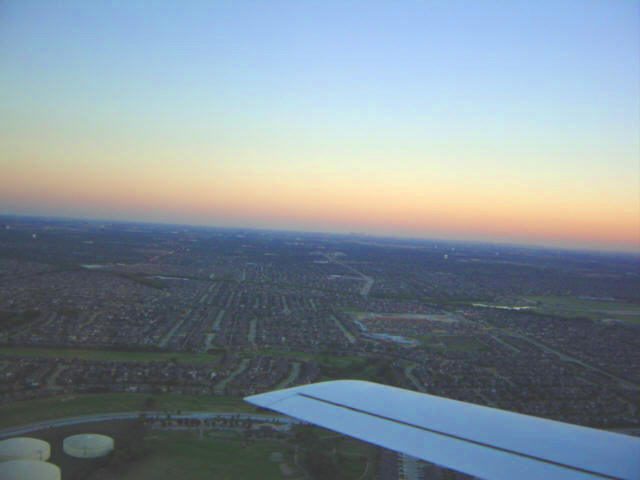 Awsome evening flight on Friday the 13th!!! (10/13/06):
Those of you that fly on a regular basis know first hand what I'm about to describe...the "perfect weather flying day". The handful of days per year that were just made for flying. It just so happens that one of those days fell on Friday the 13th...and I was not about to miss it. I left work a little early and headed directly to the airport...because I KNEW what I was in for a real treat. Not only was it almost a requirement for me to fly Berkut 13 on Friday the 13th, but on a day like this there is no stopping me! It was calm, absolutely no clouds, unrestricted visibility (40mi plus), and just a little bit cool. I pulled the plane out, blasted off...and flipped on the XM radio. I had nowhere to be except up in the sky keeping the sunset company...doing whatever I wanted. I flew over the house to wing-wag at Sandy, then off over the lake for some "fun". Just as the sun was dipping under the horizon, I heard Tom Moore (the RV builder/pilot from the above section) and a few of the others coming back from an early dinner. Tom and I formed up over the lake and did a little formation work as dusk fell. Of course, I have no pictures as I was busy holding formation...but the images are forever imprinted in my head. The sight of his RV just a few feet away, silhouetted on the multi-color horizon, with the reflections coming up from the water and mixing with the city lights was breathtaking. I wished I had a backseater with a camera on this flight as these images were meant to be shared - I feel very selfish having to keep them to myself. Word just don't do it justice, but even for me - it was a just a fleeting moment as the sun's light faded. Tom called us in as a flight of two and we headed back to TKI in tight formation. Two perfect night landings later and we were having "beverages" back at the hangar to celebrate. I have to say, this was one of the best Friday the 13th. experiences I have ever had.
---