---
1st Fun Flight of 2005 (3/5/05): Well, it's been a warm, wet, nasty winter this year. That, early dark, and a busy schedule has really kept the flying to a minimum. I've only barely had the opportunity to take her up round the pattern a few times this winter to keep the engine oil and insides clean. BUT, today was a beautiful day - so I went for it after work. An interesting thing happened on the taxi out to the runway...I was zipping down the taxiway and right next to me was a F-18 Hornet parked on the ramp! I could not pass up this photo-op, pulled off and parked next to it and snapped a few pictures: Berkut and F-18 (high res), Berkut and F-18 (low res). Then as I stood there I thought, "now...which one am I going to get back into?" ;-) Naturally, I chose the Berkut, and continued my taxi out to the runway. The flight was just pure fun - I stayed close, and "maneuvered" over the near-by lake and was treated to a beautiful sunset. A great way to start off the "real" part of 2005...the flying part!



---
Flights in Dave's Berkut 540 (3/15/05): It's been parked in my hangar twice now, and both times I was not able to get a ride in Dave's new plane due to weather, schedule, or maintenance. But, Dave did give me a "rain-check" on those rides. So, needing a little extended-weekend vacation myself, I jumped on American Airlines and jetted off to California and took him up on the offer. Here are a few exciting movie clips from one of the flights: Dave's Berkut 540 Take Off, Dave's Berkut 540 Landing. My thoughts on the flights: well...the 540's extra power is very noticeable, but the BIGGEST change is the constant speed prop! This Berkut can do things no other can - descend AND decelerate at the same time! No joke...on that landing, we were descending at 4500+ fpm and slowing down so fast, Dave had to add power back in. AMAZING! Oh...and to answer your questions: No and No. I do not plan to change engines, and I do not regret my engine choice.

Actually, those low-res movies were from the second flight - the first flight was a "auto-pilot diagnostic" flight in some thick cloud cover but I did manage to snap a few pics. It had just stopped raining, so we took off over the beach and headed north over the coast and headed up the beach. After dodging clouds for awhile, we found a clearing and tested the auto pilot. We determined it was not functioning properly just about the time the clearing was no longer clear and a few aggressive maneuvers were required. ;-) We returned to Santa Monica for the overhead break and circle to land. Dave pulled the prop into low pitch and we dropped like a rock, slowing down all the time. A little S-turn for spacing, and we were back on the ground very quickly. Ahhhh...what a sweet ride!



---
Sandy's Parents Get Their 1st Rides (3/26/05): You have read about my side of the family getting their rides in the Berkut back in 2004...now, it's time for Sandy's parents to get their rides! Fred and Shirley Vasicek traveled all the way from Michigan just to get a ride! Well...OK...they came down for Easter, but the ride was high on the priority list. It just so happened that the second day they were here...it was perfect weather, so we went for it! Shirley was the brave one and jumped in the plane first. After a short back-seat briefing, she was all set to go! We taxied out, took off, and headed for a local lake for some "sight-seeing". I gave her a good look around at 2000ft, let her take the stick for a bit, and then went down low to take a better look around the lake front. ;-) Dummy me gave the camera to Sandy so she could get some pic of her Mom in the plane, but forgot to get it BACK from her so I could take some pics in the air. Oh well...memories will have to serve. And there it is...the "Berkut smile" on her face just after shutdown...so, I guess fond memories will have to do.
Fred was next up and settled into the backseat easily. Once all strapped in, we were ready to taxi out and head for the sky. Same flight plan as before, but with a few more G's in the maneuvers this time, and a little nap-of-the-earth around the lake...without the camera...again! (sigh) The pattern was full so a low approach was out, but the tower cleared me for an overhead break - Sandy snapped this picture of it but it's a little far away for the camera. That was the first overhead I've ever done in the Berkut, and it worked out perfectly. I came in over the numbers at about 150kts and 1000ft AGL, pulled power to 25%, hit the gear and speed brake, pulled a little G in the turn, and ended up at 90kts on short final...just right. I think I may have a new favorite landing technique. Anyway, we taxied back to the hangar and...BINGO... another Berkut smile - must be something in the air. ;-) Later, Shirley even helped clean the bugs off the airplane - how kewl is that!?!?
It was another very good day spent with family and Berkut. This thing just keeps getting better!
---
Sandy's 1st. $100 Hamburger (4/16/05): Schedules, limited vacation days, and lack of camping supplies kept us from going to Sun & Fun this year. We didn't really expect or plan to go, but were kicking the idea around at the last minute. Oh well... Since all the other canards in the area went, we didn't have anyone to pal around with in the sky...so, we went on a little solo adventure. Sandy and I pulled out the map, and just picked somewhere to go for lunch - Sulphur Springs, TX (SLR). I had just installed version 1 of the video camera mount and wanted to get some pics too. So, we jumped in the Berkut and blasted off out over the local lake. I shot some good video zipping around the lake and Sandy had a blast (the same route I took her parents on). After a few more minutes of zipping around, we turned off the camera and headed off to get some food. We landed in Sulphur Springs (49nm away) in under 14mins and had one of the locals take our picture. They have a very nice and brand new terminal building there so I took a few shots of the inside - Front desk, Glider replica hanging from the ceiling, Terminal lounge, Conference Room, and Weather room. They were very friendly, helpful, and were recently voted "The Best Airport in Texas"...or so the sign said. Anyway, it's worth a stop if you are in the area.
Across the highway was the food...and a welding supply shop should you feel low on iron too. So we marched right on over to the Red Barn and had some might good food!! On the way back, we were greeted by the Berkut sitting on the ramp...begging to fly - we obliged. As a side note story, the guy in the conference room is a EAA buddy from McKinney that happened to be out doing the same thing with his family. He is also the pilot of the Commander that is seen taxing out in the last pic. He headed back to TKI a good 10-15 mins before we did...and you guessed it...we cought up with him. I started sneaking up on his low 6 o'clock position, and was just swinging around on his right side when he made his call to McKinney tower. DOH!! The tower came back with a traffic warning about an aircraft closing on his position...my cover was blown. Oh well, I then called tower and told them "I WAS that reported traffic and was also inbound for landing"...and waved at Jeff and his family. I was throttled back to match speed, but the tower asked that if I kept my speed up...I'd be #1 to land. HA! Who was I to argue...so I firewalled it and left Jeff behind like a rocket off his wing. (all smiles here) Jeff was a good sport about it, and even thanked me because he was in a perfect position to enjoy the Berkut's silhouette in the pattern turns. He also mentioned that he also happened to be a perfect firing position. ;-) Regardless of who "won" what...Sandy said she had a great time...and that was what this flight was all about.
---
Photo Shoot and Formation Flight (6/6/05): Sheeh! It's been awhile since I've updated this page, huh. Sorry about that. I missed most of May thanks to work, rain, and business trips. Grrr! Well, I'm about to make up for it...I hope. I was filling out the paperwork for the EAA Airventure Cup Race last week, and one of the things they asked for was a in-flight photo of the plane for press releases. Crikes! I suddenly realized that I don't have a single good high-res in-flight pic! I had to fix that - pronto! I called up my Long-EZ buddies at DTO (the ones that helped move the Berkut to TKI) and we planned to have an extended "photo shoot" session over the Red River. The weather cooperated (for once lately), and we did just that. We spent about 2 hours flying around in "photo formation", chasing each other around the clouds doing some "follow the leader" and some ACM (Air Combat Maneuvers). In short, A REAL BLAST!!! I shot video of the whole thing, but the stupid camera mount brace came loose and 95% of the footage is too jittery to make a music video out of...dang it. There still might be a few shots I can edit into later footage...but there is not enough usable stuff from that session alone to make a video. Too bad, because some of those shots were awesome! Regardless of the video set-back, Doug was able to capture several great shots and complete the intended "mission".
Here are a few of the still shots: Solo Portrait (my favorite); Solo Portrait over the Red River; Solo Portrait (sleek); Tight Canard Formation; Loose Formation.
Here are a few video captures: Wingman position; Good formation in line; Left break and fan out; Boggies at 12-O'clock!!!.
Well, that was a VERY fun day...the very essence of why we enjoy these planes so much!
---
Scott's First Ride in N97TX (6/7/05): Well, it's almost been a YEAR since first flight and my hangarmate and fellow Berkut builder has YET to get a ride in N97TX. Today, we fixed that little problem! We waited till the Cessnas and the corporate jets were done for the day and we headed for the lake. I let Scott fly the majority of the time, and he was a ball back there! Although this was a "fun cruise" flight, that doesn't mean that it wasn't also a learning experience. I'm helping Scott with his transition training into his own Berkut #24 (the one that I'm helping him finish). After a few practice turns, Scott was quickly getting the hang of keeping pitch under control in the turns. This ain't too bad for a back-seater with no instrument references! I have no doubt, after a few hours of orientation, he'll be ready for the "big day"...no problem.
---
Five Canards and One Waco Bi-Plane (6/12/05): It's the weekend again, and it looks like I'm setting a recurring theme - formation flight. This time, we had a mission as well - we (the Canardian Air Force of DFW) will be providing critical air support and cover for the return flight of a very rare Waco Bi-plane. Ok...so it isn't that critical...or even necessary...but it sure was fun. Scott Carter (Long-EZ) was going to fly the pilot (Chris) out to Gainesville, TX to retrieve the plane - it had been dropped off there for an antique aircraft fly-in. Anyway, I ran into Rich Guerra (a Velocity driver) at the airport and asked if he wanted to join us - he said "you bet!" and jumped in his plane. We were a "canard flight of two" as we left TKI, but by the time we got to GLE, we formed up with Scott and we were also joined by 2 more Long-EZs - Doug Bryan and Ron Gowan from DTO. Whoo-ha! A 5-ship canard flight...that was major fun! Once on the ground, our thirsty birds gathered at the well for a well deserved drink. Meanwhile, Rich was showing off his Velocity. I think Scott was getting some ideas for his new project plane. Once the Waco was ready, we all fired up and headed for the sky...then all formed up on the Waco for a slow trip back to ADS (the Waco only goes about 130kts - MAX). Ha! I guess I can log both formation AND slow flight practice all at the same time! Really, it was not bad at all...and I had the video camera running for it all - Look for it in the video section. Here are a few screen shots: On the Waco's Wing, In Trail, and 5-ship Forming Up.
---
EAA Chapter 1246 7th Annual Poker Run (6-18-05): Whoo-hoo! Sandy and I finally get to do our first "event" in the Berkut! Yep, it's been almost a year now since first flight, and we are now getting to really enjoy the plane. The Poker Run is basically like a road rally you would do in a car, but we use airports instead. Basically it goes like this: You sign-up, pick the deck number you want to draw your hand from, get the puzzle sheet and figure out what airports (four of them) you are going ot fly to, fly to each airport and draw a card to make a poker hand. Upon your return, you have the option of discarding and re-drawing cards to better your hand - like in "draw" poker. Obviously, the highest hands the win prizes - 1st-3rd place. Besides, that...it's just a good excuse to get together, fly, and cook-out. This year's route took us from McKinney (TKI) to Greenville (GVT) to Sulphur Springs (SLR) to Bonham (F00) to Sherman (GYI) and back to McKinney.
Sandy and I had missed the last 3 Poker Runs for various reasons, but this year made up for it. We taxied over to the terminal early that morning and parked next a few other experimentals like Tom Ferraro's beautiful Skybolt. After the pilot briefing we got our airport puzzle sheet, figured out where we were going to go, and blasted off into the...uh...not-so-blue yonder. The weather at TKI was great, but as we found out very shortly, the weather at the other airports was not so great - low clouds and low visibility but still marginal VFR in spots. The day ended up being an exercise in "low & slow flight" for me as I slowed it down to about 125kts @ 1500ft in the low visibility areas so I could dodge the radio towers, and not run-over the slower aircraft. The weather also had both of us so busy looking for other airplanes and towers, I didn't get many pictures. I did get a little usable video in formation with Jeff Ferraro's Grumman Tiger but the lighting and visability stunk for the rest of the trip. And yes, the Berkut was the fastest aircraft in the Poker Run...but in the interest of safety, I didn't open her up! The one leg that I did manage about 185kts, I ended up rather lonely on the ramp as the others caught up. So, we hung out a bit at the terminal in Bonham, TX with the card dealers before heading back home to the finish line.
In short, we had a great time...and Sandy ended up with a "middle-straight" for a hand and won 2nd place!!! Way kewl! She also picked one of the two "joker cards" at the remote airports and won an instant prize. I think I need to take her to Vagas again!
---
Berkut #013 becomes "Race13" (7-7-05): One of the required items for all aircraft participating in the AirVenture Cup Race is the installation of assigned race numbers on the sides and bottom of the aircraft. This year I was lucky enough to actually get the number "13" assigned to the Berkut!! How kewl is that!! So, I ordered a set of professional numbers (no duct tape on this airplane!) and installed them on the winglets and under the left wing. I must say, they look very nice and are very visable against the flat white primer. I'll spend the next couple of weeks getting ready for the race - more high speed flight tests (trim system and noise reduction), doing some more formation flights, and switching the oil from straight mineral. It's race time folks - left side, right side.
---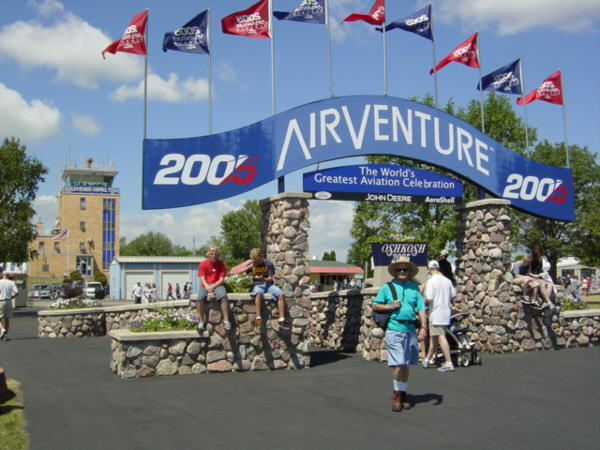 "Berkut 13 does Oshkosh 2005"
AirVenture Cup Race and Oshkosh 2005 (8-2-05): OK, let me start off by saying that, for us, this trip was a true adventure! At times it was boring, thrilling, terrifying, relaxing, challenging, exhausting, miserable, enjoyable, but over all...just plain FUN!! Setting us up for this adventure, there were a bunch of "firsts" for both the plane and people - longest duration flights so far, first long cross-country for the Berkut, first cross-country for Sandy, first air race experience, first flights in that part of the country, first long duration (2 hour) full-throttle run down low, first Oshkosh attendance, first 20+ knot direct cross-wind landing on a taxiway, first "camping with plane" experience, first in-flight encounter with rain, and even my first emergency (term used loosely) landing. To add to the fun, the week also brought extremes in the weather - from record heat in that region of the country (easily in the 102-105 degree range) to violent storms and record rainfall for OSH on the second night. WOW! Now THAT IS a vacation...uh, adventure...er, AirVenture!!!
So, lets get going...shall we? Our first non-stop leg of the trip took us from TKI (home) to MGY (Wright Brothers Field in Dayton, OH) to stage for the AirVenture Cup Race. (You can learn more about the race itself from that link) Being that this flight was the Berkut's first long cross country, I choose to "buddy-up" and flew a wide two-ship formation with Rich Guerra and his Mom (Geez, no way MY Mom would have done the race!) in their beautiful Velocity "Race 24". In fact, very wide at times when I was eating snacks or off sight-seeing for a bit. The flight was beautiful and smooth, but a little on the long side - we battled 15-25 knot head winds all the way adding almost an hour to the overall trip. As long as it was (4hrs, 20mins), we had a wonderful view from 11,500ft - noth'in but blue sky above and puffy clouds below and air-conditioning by mother nature (about 45 degrees OAT). We landed in Dayton much later than planned, and almost missed lunch! But, the EAA folks were VERY helpful and accommodating and we were able to scrounge up some "vittles" to stave off the hunger pangs. But, the fact remains - we made it to Dayton and were now parked along side all the other racers. Kewl! As Sandy and I were un-packing our over-night bags, there was quite a bit of activity going on. Several of the "serious" racers were up doing formation photo shoots and low approaches for the local press. There was also a B-17 there giving rides to the locals that came to see what the commotion was all about. The B-17 is one of the my most favorite "warbird" aircraft, and to have it taxi out right in front of us, so close that the shade of the huge wing tip covered our nose, was a real treat! OK, time to go check out my "competition".
The AirVenture Cup race gathers a rather interesting and broad mix of aircraft together - this year, mostly due to weather across the country, we only had 47 aircraft make the race. The race itself is handicapped into categories based on engine size (cubic inches not HP) and gear type (retract or fixed), but leaves everything else to the whim of the racer/builder. So, you get some really mismatched planes within the categories - turbo/supercharged planes running against normally aspirated ones, constant speed props against fixed pitch, one-seat race-optimized planes against two+ seat general use aircraft, etc. etc. Needless to say, this makes the race less of a direct competition and more of a friendly, "just fly it and have fun" or "just for the thrill of it", type of event. Some of the race categories have course completion time spreads of OVER an hour between first and last place in this only 500 mile race. Thus, this "race" environment only really yields two types of "racers" - the "tricked out race planes", and the "everyday flyers". My category, Formula RG, is for aircraft with 360ci engines and retractable landing gear and is the most competitive of all the classes. What do I mean by that? Well, there were only 6 planes in this category - all of which (except me) are veteran racers, with highly modified and optimized aircraft. One of which is the Polen Special - a single seat, turbocharged, intercooled, race-specific, record setting aircraft that bills itself as "World's fastest 4-cylinder engine"....nice, huh. Actually, it is quite an exquisite aircraft - you can learn more about it and the pilot at his website. Ok, no chance of beating him...so, who else? The rest of the pack were tricked-out Lancairs - some turbocharged, some not...but all very nice, thin winged aircraft. Oh well...it's not like the "pink slips" are on the line...it's my rookie year and I'm just here to learn the ropes and see how the Berkut...rather..."Race13"...behaves in actual race conditions. Remember...plane, pilot AND wife have never done any of this before so there is just a slight bit of apprehension about it all. In fact, I made a pact with myself before even leaving home - I will not push the engine and risk damage if the temps get too high, I will not "go low" regardless of winds and not have an "out" incase something unexpected happens, and I will be prepared to "abort" the entire race if EVERYTHING (including Sandy) was not 100% operational. For us, this race was "experimental" enough without adding to the pile of stuff that could go wrong. So, after a very quick walk around the other aircraft (didn't come close to seeing them all), we took the shuttle to the hotel and had just enough time to check-in, drop our stuff off, and make it to the race dinner/briefing. Whew! Day 1 was over...time for some sleep - the last in-door sleeping for a whole week.
The next day was "race day"...and the butterflies were buzz'n vigorously in my belly. We were both really jazzed about the day...and could hardly wait to get going - the "waiting around" was the hard part. We pulled the plane out of the grass and onto the pad, loaded her down with all our bags and topped her off with fuel. This time, about 200 locals showed up to watch the race launch and mingle with the racers - so, Sandy and I were packing, prepping, and pre-flighting while happily answering questions. (a BAD idea...you will soon see why) After an hour or two of this, Sandy and I headed over for the race briefing. No changes to the briefed plan, weather was VFR, so we just went over the course, turn points, frequencies, etc. Then, it was back out to the plane to await "engine start" and line-up. This year, they launched the planes starting with the "faster" categories first - our class was third in line, and I was right behind the Polen Special. Sandy was in the back shooting handheld video - but as we were about to find out...it was a pointless endeavor for this race. We watched, and waited as the Unlimited and Sport classes departed...then it was our turn! Yee-haa! Let's get this race in the air! The first timing gate was at the departure end of the runway, so I lifted off, stayed in ground effect and accelerated, pulled the gear up, and zoomed through the gate into a climbing right turn onto course. We're off!!! Just about the time I was having that very thought and half way into my climbing turn...I heard and felt a low frequency vibration I'd never heard before. Humm...not good. I looked over my left shoulder to see a 20+ foot long vapor trail coming out of the strake!!! $HIT!!! I know immediately what happened - the left fuel cap had departed the aircraft and that "vapor" was FUEL being sucked out of the tank. My IMMEDIATE action was to switch to the other tank, and start a turn back to the airport. My second action was to make the radio call that "Race 13 was in-bound with a problem". My third action was to begin cursing to myself (but, out loud) - not because we had to abort, but because I figured I had lost the cap somewhere over town and would never find it! The best I would be able to manage was to have a replacement cap over-nighted - but since this was Sunday, it would be WEDNESDAY before I'd have a replacement...ending the race for us and significantly screwing us out of prime OSH time. My only mistake to this point was the "out loud" cursing...on the intercom...with Sandy listening...OOPS! She was still silent with fear...but mainly because I had not yet included her in on the "happening" and let her know that we were NOT in any real trouble nor did I need to use the "E"-word. Although an immediate landing was in order, the reality was that I could have easily continued flight using the other tank for several hours. I was just so pissed off and disappointed at that point, that I was fit-to-be-tied - and honestly forgot I had a passenger at all...let alone my wife in the backseat! A quick explanation helped calm her nerves, but she was still a bit shaken...hey, so was I. Anyway, an uneventful yet "expedited" landing later...and I had to make the next radio call - "Race 13 has lost a fuel cap and will be full stop". Oh, that one will echo in my head for many years, I'm sure. The funny thing was, right after I transmitted that, several others (on the ground) made radio calls to the race ground crew to "check that left cap, please", or "please latch that right tip tank"...so, I certainly was NOT the only one with a loose cap. With the Berkut, the caps are outboard of the prop, and a loss does not pose much of a danger...but for other aircraft, it can be a total disaster. So, my error could have actually saved a life...only God knows that one. What counts is - plane, pilot, and passenger were safe and sound...but it's generally a bad thing to land with less parts than when you take off. So, what happened? Distraction...and letting the line guy touch the airplane while re-fueling - neither I do on a normal basis at home. The 1st generation Glasair fuel caps I have are of very poor design. They seal fine, but the locking mechanism allow the cap to turn in BOTH directions and latch - but only ONE direction actually locks the cap. It looks closed and locked the other way, but a slight vibration later...and "pop" goes the top. Add to that, I had not yet installed the cap retaining chains...a later retrofit that was on my list, but is now at the top of it!!
OK, now that the excitement was over...and all the other racers had departed, the race crew was quickly making phone calls to find a local Glasair builder that might have a cap to borrow. Now, since I was the only racer still on the ground...the "crowd" that was the "distraction" before actually came to my rescue! In a lucky twist, a "local" that had been watching the take-offs came over and was listening to me give a recount to the local press. When I got to the "vapor trail as I turned out" part, he piped up and said "Hey, we saw you trailing something when the nose first lifted". Holy smokes! It's on the RUNWAY!!! I grabbed the race crew and we quickly formed a runway walking party. Sure enough...the cap was quietly waiting for us, mid-field, on the center stripe. I guess it actually popped off when I rotated the nose. It had a little battle damage with scuffs and scrapes, but the seal was fine...so, we were back in business!! The 14.5gals of fuel were replaced, caps back on and triple checked...the timers headed back to the gate and we were off once more - this time with ALL the parts! By now, the crowd was cheering and jumping up and down along the runway as I departed. I can actually say, I had a audience just for me - the underdog, now 45mins behind the pack. ;-) Note: the race rules allow for a restart from the starting line, but no where else. Actually, the start line stays open for up to 2 hours after initial launch...so, there is no "rushing" just to leave and compromising safety - I got a new start time with no penalty. And YES...I have since added fuel cap retaining straps.
The race itself...well, Sandy and I have one word for it to sum it up - BRUTAL!!! OK, we finally launched about 11am (Eastern) and now it was getting hot...really hot. The forecast called for "extreme heat" in the region - we're talking 102-105 degrees in Chicago area "Yankee-land" folks!!! By noon...ground temps were 100 and it was 98 degrees at 2500ft....and TURB-U-LENT! (hence, no pictures) Man, I have never flown a rougher route...ever...in any airplane. Sandy was a real trooper!! There was NO WAY to shoot video or take pictures of anything...heck, I could barely read the GPS, and it would take 5 mins to change radio frequencies my hand was bouncing around so much. Stuff was floating in the cabin when we hit some really hard ones and our heads were hitting the canopy no matter how tight the harnesses were. Add to that, full sun from the bubble canopies, and at BEST 98-degree air from the vents...for more than 2 hours straight! As for the winds...the long leg winds were 20 knot head winds at ground level and got significantly worse as you climbed...so EVERYONE in the race stayed low, really really low! As promised to myself, we did not go lower than 2000ft AGL (2500ft indicated) and thanks to the turbulence and hot air, was also not able to generate more than 210 knots true airspeed - 15 knots slow by my typical speeds @ 5000ft. in smoother air - high aspect ratio wings generate maximum induced drag down low and that Catto prop was designed for 10,000ft peak performance. I will also mention here, that the "hard deck" for the race (stated in the rules) was 1000ft AGL (about 1500ft indicated for the course, except for the pylon turns). Because of the speed reductions of the headwind as you went higher...many "serious racers" (read: all of my competition) went low...reportedly as low as 100-200ft AGL in some places to stay out of the headwinds. Since I elected to play it safe, my wind penalty was a MINIMUM of 15kts (really more like 20+)...had I followed those guys down low, I would have likely placed 2nd or 3rd. But, I would have not only broken my promise to myself and put us at higher risk, but I would have ALSO broken the race rules doing so. (keep in mind, this "rule" is like NASCAR racers are not to bump other cars - yeah, right!) The rest of the course (after the long leg) was relatively short with two pylon turns and with slight tail-wind...but the additional boost was given to all the racers equally since it was no longer beneficial to be extremely low or climb too high - but also not long enough to really change the rankings. How did "Race13" perform? Superbly, given the conditions!! All the "serious racers" were concerned with cooling problems with their tweaked out engine systems - me...I didn't have the slightest cooling problem even with the 100+ degree heat. I ran full throttle, 100 degrees rich of peak, for 2+ hours and never saw oil temps above 186 degrees, or peak cylinder temps above 360 degrees. In short, this bird has a bunch more potential in her! Remember, I'm still in rough primer, have not a single speed mod installed, no airframe drag reduction or cooling drag reductions efforts....nada! Everyone I talk to all agree there are at least 15 more knots to be squeezed out of this airframe and engine combo...and why not? Glenn Waters Berkut 360 is doing 236kts TAS right now. ;-) Overall, we did very well...only 6 minutes separated our entire category of aircraft over the 500 mile race (excluding the Polen, of course) making our finish the closest in the history of the race. So, guys...look out next year! This time I was a completely stock airplane with a wind disadvantage...next year, I'll have some mods. ;-) Checkout the race results HERE.
Here's a short video of the Rockford, IL pylon turn (3.2mb): How "brutal" was it? This should put the turbulence we endured into perspective for ya.
The race finish line was a small private airport south of Fond du Loc, WI. The racers zoom over the finish line, then pull up and cool down for a little bit before heading over to the Fond du Loc airport for staging the mass-arrival into OSH. However, since we launched 45 mins after the slowest category aircraft, our "group" had long since landed when we arrived at the first pylon turn. We also began to catch up with and pass some of the slower group just as we arrived at the pylon turns. I had to stay high, and maneuver to avoid running over a couple of them so that added slightly to my time disadvantage, but made the race a little more enjoyable and took my mind off the heat and turbulence. I was kinda hoping for a low level pass over the finish line as a triumphant end to a good race...but no dice, a RV-8 in the way....(sigh). Regardless, Sandy and I glad to have the "brutal" race behind us and headed straight for Fond du Loc. As we pulled in, they routed us over with the other canard racers. I was surprised at the number of canards, I guess they were spread all over Dayton and I didn't see them all. Later in the afternoon, the clouds and winds came. By the time of the 2:30pm briefing, the winds were 90 degrees to the runway @ 20+ knots. Oh boy...now the "easy" mass arrival at OSH was going to be a significant challenge for all of us. OK, here's why - the strong crosswind was one thing, but the other is that OSH was using one of the north-south taxi-ways as a second parallel runway to 36 (36L and 36R). We were supposed to all launch in pairs (left and right of centerline) on the same runway at Fond du Loc, then land on the parallel "runways" (36L and 36R) at OSH just as you took off. However, now with the stiff crosswind, no one wanted to land on 36R - the narrow taxiway turned runway. So, as the gaggle approached OSH, folks that should have landed on 36R started scooting over to the left thus screwing up spacing, causing the controller to verbally re-direct aircraft, people had to then get on the radio to confirm new instructions and "organized chaos" in sued. It became more of a "mess"-arrival than a "mass"-arrival. In fact, when I staged for take-off - it just happened that I was on the left (destined for the wide runway), and NO ONE was brave enough to stage with me...knowing they would get 36R (taxiway). So, I had to take off alone. By the time I was on final for 36L (as I was supposed to) at OSH...a scant 8 minutes later, two planes "merged" in front of me from 36R's final - totally screwing spacing! Chickens! So, rather than running over them, I moved over to 36R and took their spot for the taxiway and landed without incident. The poor tower controller was at his wits-end...and those guys who chickened out at the last second should have just gone around. Regardless, we all made it down safely...crosswind, narrow taxiway and all...so, that was the main thing. A few minutes of taxi later, we were PARKED AT OSHKOSH and in one piece!!!! Wow! This was kewl - kinda felt like stepping onto the moon...or maybe that was just the heat stroke talking. We were welcomed with 102 degree heat and no water vendors or concessions were open yet...not good. They parked us at "show center" with all the other canards in preparation of the "Glass Overcast" mass-arrival the next morning. Sandy and I un-packed the airplane and headed for the camp site wondering where all the sand and camels were - did I mention it was "ludicrous-hot"...and we didn't know where the campsite was? Wheeee! Off to a great start, huh...(sigh) But, at least we're here.
Sandy did a great job as GIB! Toughed it out through the heat, the sun and constant pounding turbulence...but the heat with no water got to us both in the end. We were exhausted, had no idea where anything was, where we needed to go or how to get there. In short, this part of the trip...well...SUCKED! We found a shady spot, dumped the stuff, asked for directions and grabbed a John Deere driving chick and BEGGED for a ride. She could only take one at a time, so I went on to the campsite with the stuff and let Sandy rest for a bit. With a little difficulty, we found the campsite, and I started setting up the tent in 100+ heat...no fun, let me tell you! Sandy did the smart thing when she arrived and made friends with the folks in the air-conditioned RV and stayed inside. This trekking about and setup caused us to miss the tram to the Race Dinner - and absolutely NO ONE on the airport grounds knew were it was being held. I'd ask, "does anyone know where the AirVenture Cup Race dinner is being held"? Universal response - "yeah...it's at 6pm". (BTW, it was 6:30pm now) Was it the heat? Was I still speaking English? Sheesh! So, again with the John Deere dudes...we rode around aimlessly for about 30mins looking for the dinner. The driver said, "Hey, lets go ask these folks." I said, "These ARE the folks!!"...and we were there. Simple, huh. I'm beginning to get the feeling that communication is a little sparse at an event this big. Oh well...food and water...we'll live to see another day. After dinner, we trekked back to camp and finished setting up and unpacking. By now, it was dark, beginning to cool down...and we were beginning to get our wits back. One extremely needed, and very much appreciated shower later and we felt human again. Our dirty clothes?...well...we may just have to burn them, that is...after the sweat dries out. ;-) Day two was now at an end.
Oshkosh Day 3 (Monday)...well, didn't go quite as planned. I had originally planned to to get up early, leave OSH at 8am and fly to Fond du Loc and fly back to OSH in the "Glass Overcast" canard arrival as several did. Well...given the heat and exhaustion of the previous day, there was NO getting up early...period. We had declared that after the last couple days, it was time for the "vacation" part of the trip to kick in....so, Sandy and I took it easy...slept in, had coffee & breakfast, and made it out to the flight line in time to watch the arrival. Weather around the country reduced the number of canards, but it certainly a good turn out. It was not long before the canard parking area was completely filled no matter where you look, you were surrounded. And in the middle of it all - Berkut 013. It was an impressive site, but not as impressive as what was next - the arrival of SpaceShipOne!!! It was the opening act of the air show on the first day. The "clipped-wing" version of White Knight came in high from the west and flew over the field. It circled a couple times to drop altitude and then did some low-approaches, photo passes, and afterburner turns...then came in for a perfect landing and taxi to show center. As they flew over the last time, tears came to my eyes as the announcer said, "Remember folks, our realities are created by our dreams". Wow! That one hit home...as I stood there watching, I also realized this was MY dream, and MY reality connecting too! I still get goose-bumps thinking about it. The rest of the day, we wondered around like lost sheep, watched the air show, but spent most of our time at the flight line around the plane talking with folks. It was a good, relaxing, fun day. Little did we know about the excitement that the evening held for us. Cikes!
We had a good dinner of real 'Consin "Brats" back at camp and enjoyed the company of several others in the wagon-train...most all had been camping together there for almost 30 years and had all kinds of stories to tell!!! (the core group goes way back before AirVenture was even at OSH) Anyway, we were just about to head to bed when it started to rain a little. No biggie...we figured it was just a shower. Then the winds picked up, and the lightning started getting really intense. Then the rain quit, the wind turned toward the storm and it got really quiet....in Texas, that's a pre-tornado condition. So, off to the tent we went to batten down the hatches and ride it out. Man! Almost as soon as I zipped us in, the winds picked up to about 40mph with gusts to 50+. Lightning was much worse now, and sheets of very heavy rain pelted the tent. Keep in mind, this was also a new tent, first time out, and Sandy's first time in a tent during a thunderstorm - I had no idea how well it would weather the storm. I was thankful I had invested in a really good tent - a 4-season convertible, with what is really a second skin when the rain-fly is attached. The intense part of the storm lasted for about 45mins, then it was just rain for the next 6 hours. We stayed completely dry, but there was a 1" deep puddle under the tent that had to be dealt with. I could poke the tent floor and watch the ripples radiate out to the corners. We had air mattresses that kept us off the ground and dry, but I'm sure others were not so lucky. We found out the next day that the worst part of the storm missed the field, but it was still record recorded rainfall for OSH. I have to admit, there were times I was a little scared myself. Oh well, another "first" behind us and another exciting notch in the "adventure" belt.
The next morning, when the rain stopped, we took a look outside and to our surprise, the world was still there! ;-) We had survived, but we were both a little weary and were a little short on sleep - not from the storm, but from the humidity in its wake. It was like trying to sleep in fly paper - everything seems to stick to you - all part of camping out. Thank God I brought some tent fans to circulate some air! So, the objective for the morning was break down the tent, pulling out all our stuff and drying it out. The rest of the camp faired about the same - on the right of our tent was Sig and Janet's tents, then Paul and Scott's RV, another RV of who's name I can't remember along with Dick and Carol's tent, then John's tent (Mark's RV was gone in this picture), and finally Jim and Dondie's RV. After a few hours of drying out, we put it all back together and headed for the flight line. Oh yeah...the plane!! We hoped it was not damaged by hail or the winds...and as we found out it wasn't. However, flooding...that's a different story. There were flood marks on the side of the aircraft where the water had been - about 6" up on the nose. Uh-oh. I opened the nose baggage door to find 6 inches of water in the nose, and the "down" gear relay submerged under water. With my coffee cup in hand, we pulled all the water soaked stuff out and spread it out on the strake to dry, finished the coffee and started bilging the nose then sponging out the rest. Funny, I never thought to install the bilge pump in the many years of building. ;-) The other EZ folk started to show up and the bilge cup and sponge made the rounds. On a happier note, the canopy seals did their job perfectly and the cabin was bone dry - along with the instrument panel. However, the mp3 player stored in the nose bit the big one...so the flight home was doomed to be "tune-less", but the real concern was the gear down relay. Gee, where am I going to find a really...oh yeah, at Aircraft Spruce just around the corner. I love OSH! Most of the day was eaten up with drying and repairing duties, so as I replaced the relay, Sandy fielded questions and watched the air show. Funny thing began to happen, Sandy was now answering more questions about the Berkut than I was...hey, I suddenly had a press agent! Kewl! That's my Honeybear!
The next couple of days were a little cooler in temperature - a welcome change. We decided to go check out SS1 early in the morning before the crowds came - and in the process found Starbucks coffee!...this became the breakfast spot for the week. Back as SS1, I was able to get several great shots up close: from the side, head on, Sandy with SS1, and me with SS1. Oh, and not to forget Bob's Starship. We hit the pavilions and vendor tents all day, and stayed with the plane during the air show. As the sun set on OSH, we trekked back to camp to find it bustling with activity...ok, well maybe "bustling" is not the right word. Anyway, we ate dinner...stayed up way to late around the camp fire...and finally went to sleep. Ahhh...a perfectly enjoyable! This was the drill for the next few days.
I can't even tell you how many people we met over the week - hundreds of web site viewers, almost all the active Berkut builders, dozens of fellow homebuilders looking for ideas, and thousands of folks asking "which way does that there thing take off"? Sandy was great - answering all but the most difficult of questions! I was shocked and amazed...she never ceases to surprise me. While my press agent was earning her keep...I was watching one of the best warbird displays I have ever seen. At one time, there were over 100 warbird aircraft in the sky at the same time. There were mass formations of T-6s, T-28s, and T-34s coming from various directions and altitudes. B-17s made several bombing passes, and fly-overs with P-51 escorts - very kewl stuff!!
Now, reading this very long write-up...you might think we've hit a boring rut - you're wrong...the best is yet to come. Our last full day at OSH was full of good things. First we watched the Global Flyer make some low approaches, and Mike took the White Knight out for a spin around the patch. I was able to catch him zooming between my canopies, not once...but twice! What happened next absolutely floored me! Sandy and I had lunch with Burt Rutan! One of my EZ buddies, Ron, was already sitting at the table and flagged us over. We just happened to be in the same place at the same time, quite by accident actually. I had never met Burt in person and it was quite a thrill...and I even have the picture to prove it! During lunch, Burt was way too busy for much idle conversation, so I spoke mainly with John Tye (lead SS1 aerodynamicist) and his wife Brooke. I can't say enough about these folks - they are really great people! Brian Bennie was also at the table with a few others I didn't know, but left before I could break out the camera. So, I caught up with him next to SS1. I got the feeling that Mike was a very busy man on this trip...and was not at lunch. The closest I got to him was for this long range shot. Wow! What a great day! The camp crew ended the Oshkosh run with the 30+ year tradition of "Oshkosh Beans" on the camp fire. They were great...this year. Reluctantly, I finally joined Sandy in the tent and went to bed - knowing it was the last night. ;-(
This OSH is really going to leave a lasting impression with me - it's truly touched body, mind, and soul. But, all good things must come to an end...and now it was time to leave. We had survived it all...and I had come away with so many new experiences, it's going to be hard to top this! We packed up the tent, shipped our camping gear home via UPS, and headed out to the airplane. Rich and Doug Bryan had departed separately a couple days before, and Scott Carter and Ron Gowan left just before we did so it was to be a solo trip home (with no mp3 player). We blasted off and headed for 10,500ft for the trip home...zooming past a V-tailed Bonanza on the way up. Soon after take-off, we ran into a weather front moving through Iowa and had to skirt around it. We deviated further south and then direct to TKI. For the first time on this trip, we finally had a decent tail-wind so I took her on up to 14,500ft. Sandy was all happy in the back, we were zooming right along, and the engine was running very efficiently. It was a beautiful flight home...and the perfect end to a great week!
---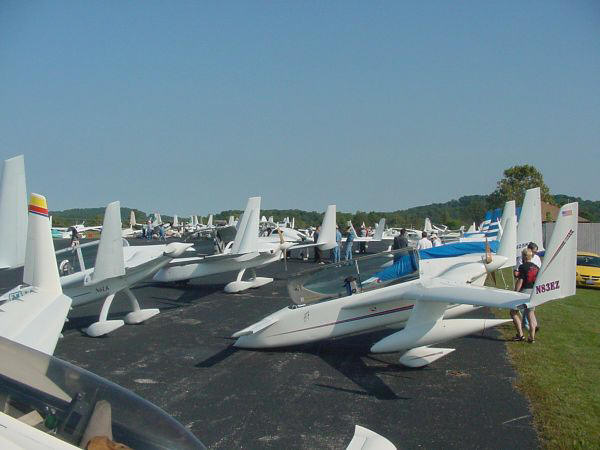 Rough River - THE Canard Fly-in (some photos by John Lambert & Rick Maddy)
Rough River Canard Fly-in 2005 (10-4-05): YAHOO!!! We FINALLY made it to Rough River this year! As you might have read, we were unable to make it last year as I was knee-deep in Phase-1 problems. (sigh) This year's gathering was a "must go", and it didn't disappoint with a near record turnout of 73 canard aircraft and 2 or 3 times as many people. Getting there was half the fun too. Sandy and I blasted off about 45mins to 1hour after the rest of the DFW contingent, zoomed along at 210kts., slightly higher than standard cruise configuration, burning a little more fuel in the process, and clearing the 565nm in 2.6 hours. But hey, we still arrived at 2I3 at the same time as the others. ;-) (Moral: having the fastest plane in a group means you get to sleep late and still get there on time). We didn't, however, arrive in time to form up with the other 5 planes for the formation fly-overs - bummer. So, we came around right behind the flight and setup for a low-pass. Didn't get to make max speed as the pattern was full and it was rather bumpy, but it was still fun! Here's the video: Low Pass (1.4mb .wmv) We came around as #6 for landing and headed for the ramp - Approach and Landing (5.3mb .wmv). Luckily, I was able to get a spot on the asphalt for my tiny little tires and low gear door fairings. Here's Sandy's "The Eagle has Landed" picture. Mine, was a little less staged. The ramp was only starting to fill up Friday afternoon, but many many more are on the way. Sandy and I unloaded the plane and headed for the lodge. We found it just a short walk down the road and nestled in the trees and nicely furnished to boot. The rooms are divided into several buildings that are just off the lake's shore. We were very pleased with our room - they are all fine, but this one had a great view! Just stepping out the door opened up even more countryside with a nice river bank. Right around the corner in the other direction lead to a nature trail with a lake view. While I was out shooting pictures, Sandy was in the room bouncing on the bed. After settling in, we walked around the park to see what's there - the dam, swimming area, more lake, a kewl cabin on the opposite shore, tennis courts and even a par 3 golf course. Then as we came around and back up the hill, I was reminded of that Jimmy Buffet song's chorus, "I got fins to the left, fins to the right..."
Now, we got rooms at the lodge, but several just camped out with the planes - my buddy Graham Shevlin took that to an extreme. Doug Bryan (Long-EZ) was seen...for several hours...pumping up his air-mattress while Scott Carter (Long-EZ), Steve Bert and some other DFW folk enjoyed some special beverages. Sandy and I spent the rest of the day talking with folks, looking at planes, and just chilling-out - it's a very relaxed atmosphere. As the sun went down, everyone headed back to the lodge for a good dinner with friends, joking and telling stories. Very kewl.
Day two, Sandy and I eventually made it to the flight line. Several more people and planes had arrived and many were making low passes and sight seeing flights. Berkut13 always had a small crowd of on-lookers as it was the only Berkut to attend, but all of the planes there were worthy of notice - as noted by the number of locals that dropped by to see the "airshow". I even got to see some aircraft fly that I have never seen in person like Harry Manvel's Defiant, and a Vari-Viggen. One of the most impressive to me was Chris Esselstyn's Stretched Cozy MkIV with retractable gear, a IO-540 power plant, and lots of room in the front, and back. Chris made a very fast low pass before he landed...Man, I could have sworn I had heard a Berkut 540 fly by. What a bird! He always had a crowd around his plane. Steve Wright was there with his Stagger-EZ, Terry Lamp and Mike were there with their beautiful new Long-EZs, and there was even this weird looking, backward flying, metal contraption that someone was trying to pass off as an airplane. Weird, huh.
Later on Saturday, everyone gathered at the "terminal" building for the CSA meeting and door prize drawings. Take a look, you might see yourself if you were there: meeting, group 1, group 2, group 3. A few more minutes of sunshine and the day was over and time for dinner. Sunday morning came to quickly and we were greeted by the buzzzing sound of canards leaving and a nice sunrise. We packed up our stuff, ate breakfast and headed for the airplane. We carried out bags, but I think these folks had the right idea. Again, we gave the DFW crew a head start, caught with them over Arkansas and beat them back...this time at a standard 205kt cruise and a fuel burn less than 10gph. We had great weather on the way back too. So, one Rough River down, and many more to go. Sandy and I are already jazzed about next year!
---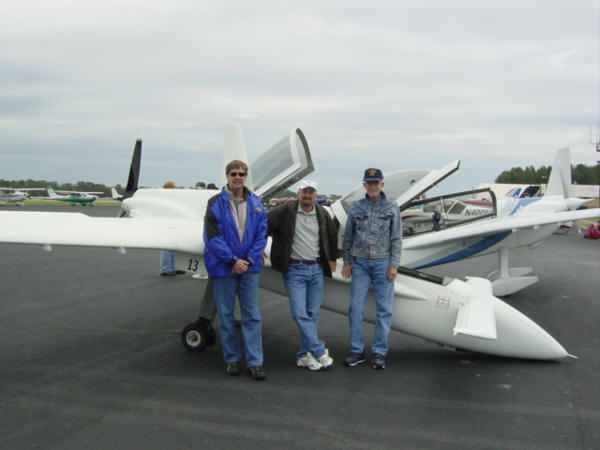 Scott Carter, me and my Dad @ Lufkin, TX Fajita Fly-in
Guy's Day Out @ the Lufkin Fajita Fly-In (10-8-05): Well, I'm a bachelor for a weekend. Sandy, her Mom, two sisters and niece all took a trip to the Mall of America. So, while Sandy was out "shopping till she drops" - the "boys" went flying. Morning came a little early for a Saturday and I was at the airport by 8am. (hey, it's early for me) I blasted off and headed down to Cleburne because this time, I had a special passenger - my Dad. All the weather people had all predicted that there was not going to be any rain, and nothing but sunny skies....WRONG! It wasn't bad, but I did have to divert around a little rain shower. But, the sun was trying to peek through on occasion and gave me my own personal rainbow. I landed, picked Dad up and off we went to meet up with Scott Carter. We both were picking different routes through various rain showers, so we didn't link up until we were over the airport at Lufkin. We formed up, and then swooped down for a 2-ship fast low-pass down show center then popped up and came around for a landing. It was quite a fun ride...and I didn't have a camera-one rolling. Bummer. I didn't any pictures from the fly-in either as I was just enjoying the day with my Dad. We ate lunch - Fajitas (what a shock), and then planned a 2-ship photo pass upon leaving. Another real blast!! Again, no cams (sorry). I really would have liked to have one rolling because I was tucked in formation with and watching only Scott and really didn't get to "see" any of it. So, if you were there and got some video or pictures of it, I sure would like a copy! Anyway, after zooming up and out of the area, we continued on in formation. I was hanging back a bit to give additional room for "head down" work as we were still navigating around a storm cell that was in our way. (That Garmin 396 is absolutely amazing, but it does take a good bit of attention to get information out of it) Then, I realized I had Dad in the back! DUH! Let him fly! ...and I did. Being the retired Air Force pilot and instructor, he tucked the Berkut nice and tight in with Scott's Long-EZ. Now this was a switch, I'd never been in formation...as a passenger...in my own plane, no less. ;-) Dad was having a blast back there! I took the opportunity to not only get the weather, but I took lots of great pictures of N24SK - Slot position and Maneuvering. Just short of Dallas, Scott broke off and continued home and Dad and I poured on some power and sped on to Cleburne. That was a very fun flight! Best of all, I got to share it with my father. We'll do it again! ...and next time, I'll hook up the cameras.
---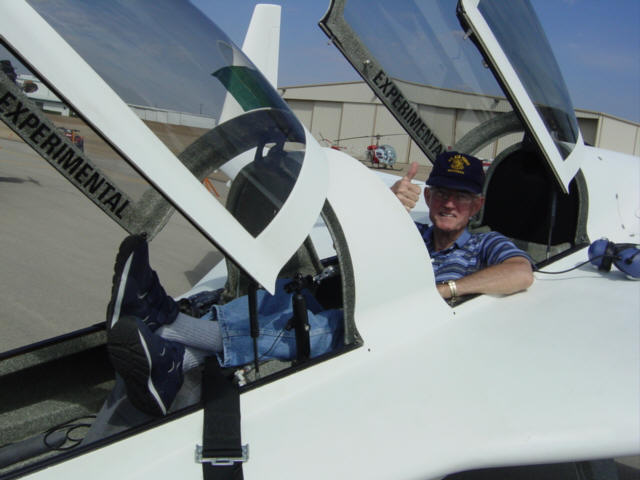 Dad waits comfortably for our "fly-by time"
"Freedom Flight" Air Show in Cleburne, TX (10-16-05): My home town started a local air-show last year while I was still in Phase I testing. Last year, I flew around over town and did a couple of fly-bys before the show and lots of folks were asking "what was that weird looking airplane". This year, I was invited (and as many canards I could gather) to be in the opening "fly-bys" of the show. It was rather short notice this time and only Scott Carter was available this weekend - too bad, but we had fun being the only canards on the field. We were hoping for a little 2-ship formation work during the fly-by portion of the show so Scott and I formed up on the way down there and practiced some "in-tight" turning climbs and descents simulating a circuit around the airport. It was good practice, but as it ended up, there were only 4 fly-by aircraft (including us) so we all decided that individual high-speed and photo passes would be more crowd pleasing. What? A little raw Berkut speed? Fine by me! We were assigned our order by the show-boss and I was given the last spot so I could make room for some good high-speed passes (pokey planes up front, please). ;-) We had an interesting mix of unusual aircraft - #1 was a Russian Yak, #2 a Cessna Skymaster, and Scott and I were #3 and #4 respectfully. My buddy Tim, who was shooting pics for the press, hopped in the back of Scott's Long-EZ, and Dad was in back with me. It was rather interesting with the speed differentials of these aircraft - the Skymaster was only able to do 140mph while Scott and I were easily running 100+mph faster than that. I was in good position to estimate the timing for a couple 260+mph passes - YeeHaw! Scott & Tim, however, had to keep from running over the Cessna...sorry, guys. We all had a blast, so it was all GOOD! Tim was able to shoot a few cool pic of the show from Scott's EZ point of view.
Prior to the show opening, a small group of RVs made a couple formation passes. The show opened with my helicopter buddy John Pollock and a double amputee jumper - an ex-Golden Knight member that was involved in a fatal mid-air collision resulting in the loss of his legs. A real inspiration story and a great opening to the show. There were static display aircraft all over the ramp with several "don't see everyday" examples: an AN-2 looking at home on the terf, a B-25 giving interior tours, Rusty Raines had his Stearman on display, and even a flight school Cessna 152 that was giving folks an introduction to learning to fly. The local Radio Controlled Aircraft folks had a big tent display, performed some two-plane aerobatics and even flew the lawn mower. The Air Force recruiting station was there showing off the "reduced budget" F-16 for future generations. The event drew a good size crowd of locals. Several families came by our planes and told us that they were not planning to attend but saw our "funky planes" zooming around and had to come see them up close. Other "funky" flying things didn't seem to phase them as much.
We were parked near show center, just next to Rusty's Stearman and Skip Stewart's bi-plane (equipped with a Blue Mountain EFIS-Lite, by the way) and just sat back and enjoyed the show. Later they had several aerobatic acts, mostly local Texas groups, that performed in the main part of the show. We had a front row seat. A large group of T-6's did several formation passes and made a lot of noise. Several professional performers flew in the show too - The Texas T-Cart, Jan Colmer, and a very aggressive Skip Stewart.. Here are a few short videos of Skip's routine: knife-edge pass (259kb .wmv) and pile-driver (368kb .wmv). I was most impressed by John MacGuire who flew an impressive aerobatic routine without the use of his legs - Amazing! All of the show was well announced and had good sound. In all, it was a good little show and quite a step up from last year. Keep going guys! Scott departed with a fly-by and I hung around and talked with some folks. I departed just before sunset and Tim captured some really neat pictures: take off from under a B-25 wing and low approch in the tail gunner's sights.
---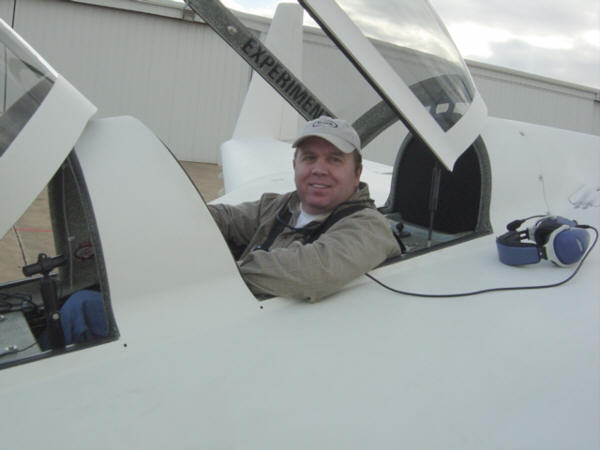 My buddy Steve was a little apprehensive...at first
Steve's first Berkut ride (11-23-05): So, what have I been doing for the last several weeks - simple...FLYING! I have not been going any great distances, or to any major events...just flying around locally visiting other canard drivers, and giving my friends rides. In short, just enjoying the heck out of the Berkut. The cooler temps, sunny days and calm winds have really made things nice for the last several weeks. I'm getting all the fly-time in I can while the weather is good. This last weekend, I had the opportunity to use the scales again so I re-did the Weight and Balance on N97TX. I've made a lot of changes and modifications since it was last weighed, so I wanted to verify the effects on CG - I didn't expect much but an "estimate" is never as good as the real thing. So, I drained the tanks and emptied out all the storage areas and got things ready. It gave me a little time to reflect on all the changes I've made: removed the 2nd battery and cables, installed a fuel spider & mount, changed to the heavier B&C starter, installed the back seat bulkheads and hard-points, added the rear seat belts, added camera mounting points, added lower cowl mods, added a spinner, added cup holder and aft console covers, modified the brake lines, etc. etc. In all, I was very pleased that the whole plane only gained 7lbs total!! Excellent! No appreciable change in CG or empty weight. Mission accomplished.
I put the small amount of fuel back in and my buddy Steve Vaske called to see what I was up to. I needed to go get some cheap gas ($2.90/gal.) so I invited him to come along. Now, Steve is a tall, burly guy and definitely the tallest person to ride back there so far. I took Sandy's "booster" seat out and Steve had a go at it....and FIT! I was actually a little shocked, but he said it was "tight, but comfortable". Well, OK then...lets hit the blue! Steve was a little apprehensive at first as this was really his first small plane ride. We blasted off, and I flew us around the lake for a few minutes and Steve seemed to dig the ride. We were "taking it easy" so he could get used to the sensory overload and went on over to another local airport for some gas. While there, we were spotted by a Long-EZ builder (Jay) who came over to chat. He showed us his project's fuselage tub and I must say that he is doing a superb job. (Keep at it, Jay!) The sun was starting to set so it was time to go have some more fun. We headed back over the lake, but this time I let Steve fly and try some steep turns and "pulled some G's". He was doing a great job back there and seems to be having a good time too. We zipped around over the lake as the sun set and "aggressively maneuvered" around some other local traffic and generally had a ball. We ended the flight with a 240kt low pass back at TKI and circled around for a steep, short approach to a smooth landing. Ahhhh... I think Steve now really understands why I was so persistent building the Berkut. ;-)
---
A gathering of canards always draws a crowd.
Graham's Hangar Party @ LNC (12-4-05): My buddy Graham Shevlin recently moved his Long-EZ to a new airport with nicer facilities and more "General Aviation" friendly management. So, what do ya do when that happens? PARTY! We gathered up most of local canard crowd and flew on over. The problem with Texas is you can NEVER count on the weather being consistent. Case in point, it was a nice spring day at 85 degrees and sunny the day before the party (12-3-05)...and 24 hours later it was a winter day, windy and cold. Oh well...it didn't stop us! So, Graham and his wife Marsha broke out the food and drink...and the propane heater. Several of Graham's friends and family showed up too. We all huddled around the food and heat while Graham put his cowling back on. Later, we all braved the cold once again for the after party air-show - much to the entertainment of the other folks at the airport too. (we always seem draw a crowd when we get together) Graham pull the EZ out of it's warm new nest and his sister Catherine jumped in the back with him for her first small plane ride. All 5 canards taxied out and took-off in 2-ship formations as we prepared for our strafing runs (low approaches) on the enemy airport (LNC). ;-) I was odd-man out so I hung back to give plenty of spacing for some high-speed passes and sharp pull-outs. What a treat for a first-timer, I'm sure Graham's sister had quite a view! A few passes later and we all headed back to our various home 'ports. Ah...living the canard aviator life...makes all the toils of building seem to fade away into distant memories.
---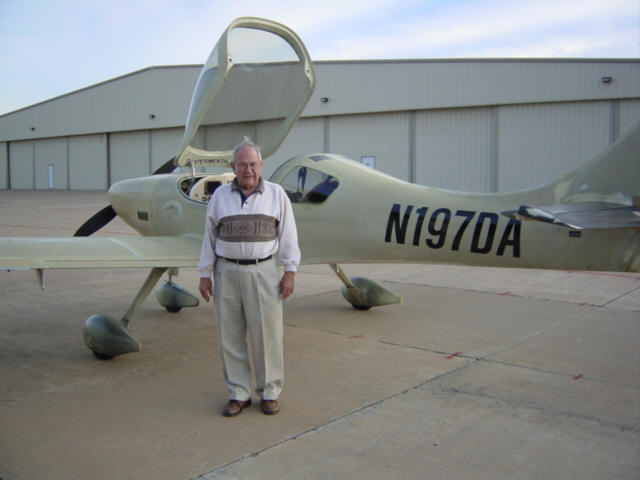 Don Bird and his newly completed Lancair 360 FG
Lancair 360 FG flight (12-11-05): For me, this weekend was spent Christmas shopping, working on Scott's Berkut and performing mods on my plane too. So, while my engine block heater and oil cooler blocking plate were setting-up, I took the opportunity to fly with one of my hanger neighbors Don Bird. Don's Lancair is still in raw-glass stage as he tweaks out his turbo-charger, prop, and other minor avionic items. He invited me along for the ride on a short flight around the area and since it had been over a decade since I had flown a Lancair, I took him up on the offer. Secretly, I really wanted to directly compare his plane's performance (200hp IO-360, turbo normalizer, CS prop) to the Berkut. ;-) We jumped in, fired up and headed out of the area. As I remembered, the visibility over the nose was very limited, and I found that most distracting...especially in a climb. The wing was also obstructing the view below, but I guess I'm just completely spoiled by the Berkut's almost unlimited view of the world. Oh well... Don's plane is nicely instrumented with a complete Chelton EFIS and engine monitoring system. Shortly after take-off, Don handed me the plane and I flew her around for a bit. We setup a typical 5500ft cruise power configuration at about 165KTAS. Handling was as I expected - smooth and even pitch and roll inputs unlike the Berkut. I was much easier to load up the plane with a little G given the lite stick forces but roll was actually a little heavier handed than the Berkut. Roll rate seemed about the same, but I certainly was not testing any high-performance maneuvers. In short, the Lancair handled much more like a standard type aircraft...because it is. Somewhere during one of my steep turns, I started to smell something burning...not good! It was definitely a synthetic smell, but not that of burning electrical insulation. We figured it was something getting too hot "under the hood" as the turbo inlet temps were running about 1600 degrees. Don richened the mixture and pulled some power, and the smell went away - definitely something charring up there. Other than the previous smell, everything was still running well, but we decided to head back anyway as it was starting to get dark. Don let me fly her home, and I handed her back over to him on short final (something about landing someone else's plane for the first time having never been in it before makes me a little un-comfortable). Landing was much like the Berkut but the forward view was terrible! I felt like I was landing in a tail dragger. Ground handling was notably better as the Lancair main gear are at least 3 times further apart than the Berkut providing plenty of brake leverage. So, now I can log some Lancair 360 (read: the competition) time in the book. Although Don's plane is not an exact match, it's always good to keep an educated eye on what your fellow racers fly. ;-) It was a fun diversion, but I still can't wait to get back in the Berkut!
---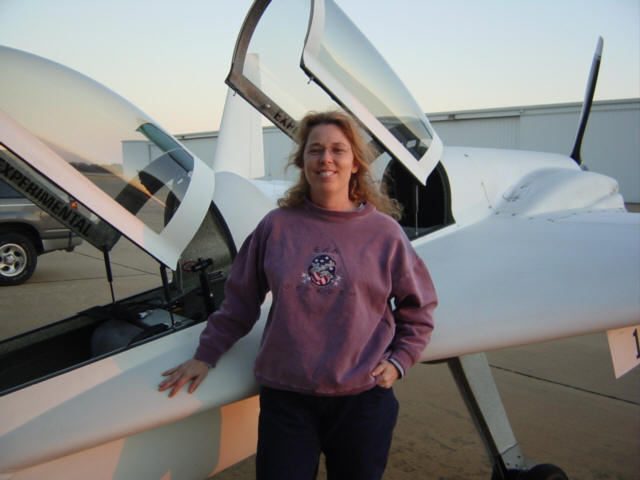 Susan showing her Berkut grin after a ride
Susan's ride (12-18-05): Weather this weekend was pretty murky until Sunday afternoon turned into a perfect flying day! I had just finished performed some minor surgery on the gear pump pressure switches and was going to take a little spin around the lake (with an empty back seat). ;-) Then I remembered, I had offered to take Dave Wilson for a ride - his 40th birthday was a week or so ago. So, I drove over to the north end so see if he was at his hangar working - Dave and his wife Susan are both pilots and are building a IO-360 powered Glasair SII. Dave was busy mounting electrical components so I offered Susan a ride instead, she happily accepted. I can't wait for them to finish their plane - I really need someone local to cut up the sky with. ;-) Susan is also EAA chapter 1246's President and recently completed her doctorate in Electrical Engineering! Kewl, huh. Dave, you're up next time! Anyway, we had a fun flight zipping maneuvering around the lake. I gave Susan control of the "yanking and banking" for a bit and I think she was getting pretty fired up about flying her own high-performance bird someday. We ended the flight with the "standard Berkut high-speed low approach" and a circle to land - the tower and line guys just love when I do that and thanked us for the performance. I think they happy to see anything other than pokey tin-cans puttering around the pattern...and I'm happy to oblige. ;-) I hope there are a few more good flying days like this one before winter really hits!
UPDATE: Dave got his ride the following weekend. Sorry, I didn't have my camera with me on that one. Now, Dave, hurry up and get that Glassair done so I can have another fly-budy!
---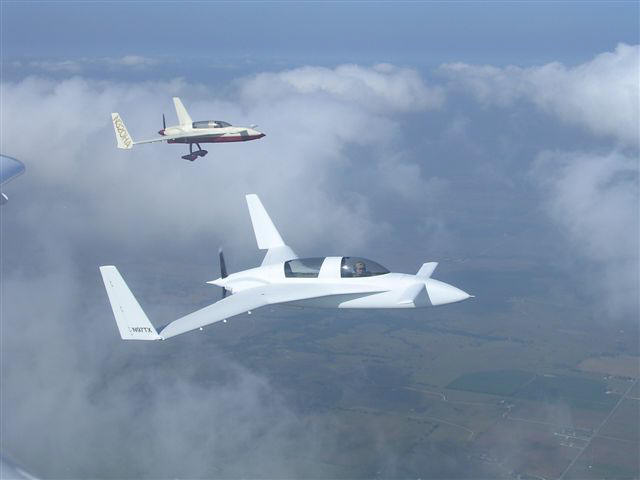 2005 was a year of "firsts"!
A great year (12-31-05): Wow! Where do I start...2005 certainly turned out to be a fun, adventurous and rewarding year with lots of "firsts"! I've already covered most of them here but Oshkosh 2005 will likely go down as my all-time favorite adventure - it's sure going to be hard to top that one. I look forward to 2006 with returns to Oshkosh and Rough River, and I hope to add a few more to that list as well. I doubt I'll have all the mods done and ready for paint any time soon but you never know. ;-) I wish you all good luck with your projects, happy and safe flights, or joyful dreams in 2006...which ever applies. See ya up there!