---
---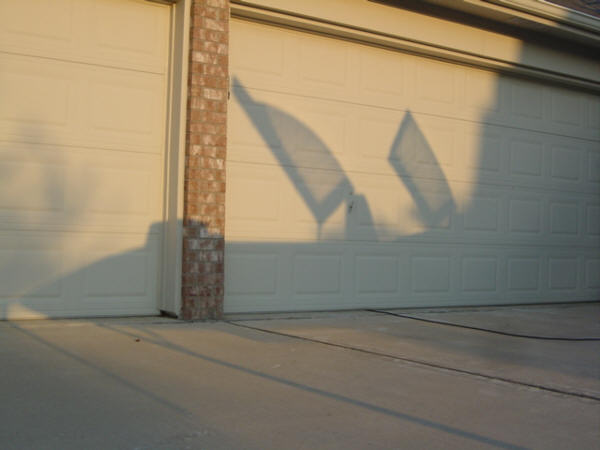 Hey,TKI....the Berkuts are coming! MUH-HAHAHA!
Whew...I'm pooped. Thanks to all the wonderful help, we were able to cram a whole-lotta-stuff into one weekend (8-7-04)! Credits are given below!
I started off early Saturday morning by getting everything ready to go - wings & canard, fuselage...it was all but done and ready to make the journey. My hangar mate Scott was out of town this weekend and missed all the fun, but was able to borrow a trailer that we used to carry the wings. When Ron Gowan arrived with the second truck and trailer, we knew we had it made! We could now move everything in one trip! It only took a few minutes to get the fuselage on Ron's trailer and strapped down. We next put the wings on the trailer attached to my Explorer and strapped them all down. We also put the canard in the back of the Explorer and threw alot of the miscellaneous things in the backs of the pickups. When it was all said and done the old eagle's nest was empty. Kinda weird having a mostly empty garage...never thought I'd see the day.
"Wagons East!!!", was the cry! Everyone mounted up, Mike Pollock provided some walkie-talkies so we could all communicate and we caravanned the perilous 20 miles from the house to the airport. A busy 2-lane hwy under construction was the only route...lucky for us...there were no problems and no damage inflicted along the way. The able-bodies crew had already un-loaded the trailers and were we in the process of installing the wings when the rest of help arrived in style. With Doug's help, the wings were a snap to install and about 10 minutes later - N97TX was in the new "Eagle's Nest". Primary mission accomplished!! Thank you all for helping transport the plane and parts to the airport without a hitch. Great job!
Oh yeah...can't leave this one out. This is proof positive that my wife AND plane can be BOTH on the same wavelength!! (I swear to God that pic was not rehearsed, planned, or modified in ANY way!) "Just strike a pose...there's nothing to it...vogue!" I'm a blessed man, no doubt about it! I love you, Sandy!
UPDATE 8-17-04: OK, I added more pictures and filled in the text...but I'm still grounded. Meantime, I'm getting the hangar cleaned up and doing all kinds of odds-and-ends to prep for the first flights. Things are a little slow while I wait for the transponder to return from Australia - but that's a whole story unto itself.
---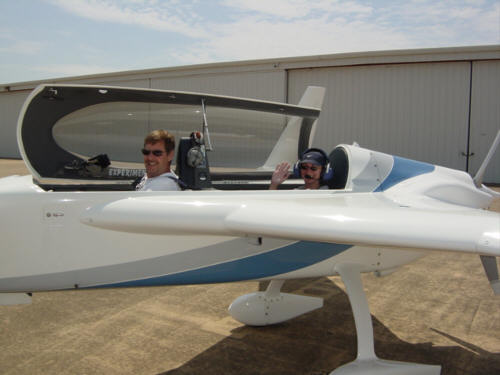 Sandy takes her 1st canard flight!
After N97TX was settled in, Scott Carter graciously offered to take Sandy for a ride, while da'boys worked on the W&B. She was excited about the possibility and jumped at the chance. She hopped right in and they taxied right on out. I jumped on the scooter and putted on down to the end of the ramp to shoot some pics of the flight. On your mark, get set, GOoooo....gone! 45 minutes later, she and Scott returned from the little adventure and a new canard believer was born!! She loved it, got to fly the plane, and really can't wait for the Berkut to be out of Phase I to do it again! Thanks, Scott!
...meanwhile, back at the ranch....

---
Weight and Balance time!
Mike Pollock provided some very accurate and computerized scales and ramps to use for the accurate W&B calculations. He also provided a very nice spreadsheet to put the data into that also graphs the operating envelope and the "fuel burn slope" for the calculated flight. Very kewl! In addition to empty and ramp weight measurements, we also measured pilot and passenger loads separately and calculated the exact datum arm point for pilot and passenger (seat cushions make all the difference). In short, I'm right where I need to be at 1130 lbs. empty, 1145 lbs. ramp, and with fuel and me a pilot will fly the sweet-spot between 101 and 102" CG - PERFECT! Thank you, Dave Ronneberg for designing such a great airplane and thank you, Burt Rutan for creating such a wonderfully versatile design!
---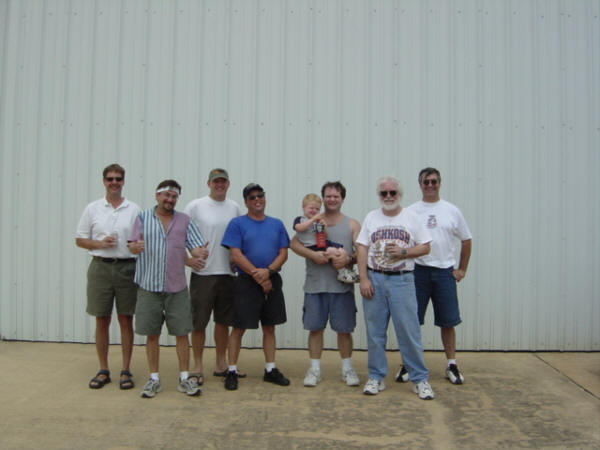 A VERY special thanks to my moving crew!
In the above picture from left to right: Scott Carter, me, Doug Bryan, Ron Gowan, Aidan (the little helper) & Scott Christensen, Mike Pollock, and Ralph Rivera. Last, but certainly not least, my loving and supportive wife Sandy (behind the camera). Everyone certainly did their part and so much more! Thank you again, everyone. I could not have done this without you!