Well, here we are again looking for a 2-cent solution to a $50 problem....and Sandy, my loving and pro-plane wife, found the answer! I purchased several of my used avionics off of eBay with great success (all tested perfectly). They came complete with connectors, but the connectors already had pins and wires installed and had just been 'cut' free from the original wiring harnesses. So, I started a web search for a pin extractor tool for the Molex connectors on the Bendix/King components. Mouser.com wanted some $50+ bucks for ONE of the bloody things...and I was not about to pay that!
While looking at a local electronics store, I happened across a Molex .156" pin extractor tool...and it was only $2.50. Bingo, I thought! So, I threw it in the bag with the other connectors I was actually after. Got home and tried it on a couple of pins - it worked on a few just fine, then it happened....on a particularly difficult pin, I slipped and it broke the tiny tip off. (Grrrrr! = edited for general publication)
My wife heard the explicative coming from garage and came out to see what was wrong. After showing her the broken tool, she said "Wait just a sec", and went back into the house. A few seconds later, she came back with a bobby pin and said, "Will this work?" Ha!!! Not only did it work, it worked BETTER than the actual tool!!! Perfect width, and slightly thinner, so it was easier to get under the pins. WOW! All this at a total cost of about (1) one American cent. You just can't beat that...not even with two of them!
Just goes to show...some of the simplest solutions often go overlooked. ...keep your eyes open out there!
Now, for those of you who have asked: The "pin" in question is actually and commonly called a "bobby pin" (as also defined by Webster), used on women's hair but not to be confused with a 'U' shaped or straight hairpin, a barrette, hair clip, or even a scrunchi. (I hope this makes sense, as my wife is feeding me this information...I'm just typing.) I've heard of, but do not know of any usage with socks, but the pin is about 2" in length, has only one rounded bend at one end, clamps together in the center and has a slightly upturned end on one prong. Here is a close-up of both the unmodified bobby pin and the one I used.
---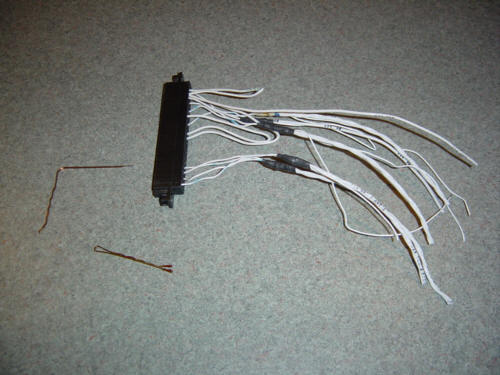 UPDATE 1-3-03: Several people have asked about the connectors that are used on the King and Narco radios and audio equipment. Mainly, wanting to know if there is another cost saving option other than spending $400+ on an "certified" installation kit from the vendor themselves (it is not uncommon for avionics shops to charge $5 per pin, and $100+ for the connector). Well, I say - "Heck, Yes there is!" - the black Molex connectors and crimp pins are readily available for mere PENNIES! You will still need a mounting tray, wires, hardware and things like coax connectors - all of which can also be found at most electronic component stores or the site below.
But, for the "mythical, rare and expensive" connector and pins, here is what you need to do: First look at your radio or install guide and verify that it uses the Molex black plastic "Edge Card" connectors and .156" pins, and count up how many total pins there are in the connector. (Note: Indicators, and other-than-audio equipment may need different connectors.) Then go to www.mouser.com and look-up and order the parts. It's that simple! Below are a few examples of the connector names and data:
Molex K.K. Edge Card Connector 44P (44pin), .156", P/N 09-50-6225, Mouser P/N 538-09-50-6225, .79-cents each
Molex K.K. .156 Terminal Connectors (crimp pins), Bulk (means they are loose, not on a roll), P/N 08-05-0302, Mouser P/N 538-08-05-0302, .33-cents each
Beats a couple hundred bucks, huh. Enjoy the saved money and now go buy something useful for your panel.