The New Hangar @ TKI
Last updated 6-23-04
---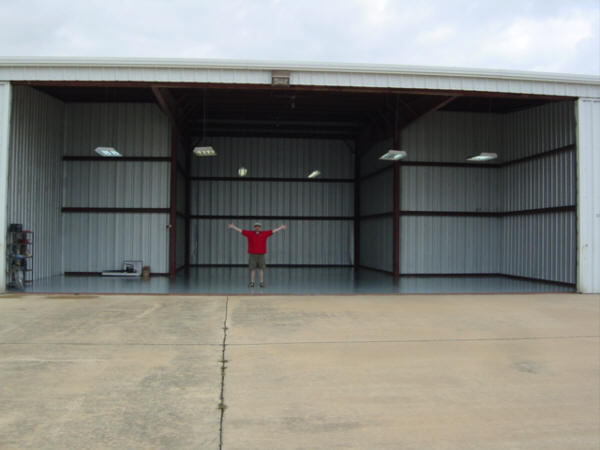 The future home of TWO Berkuts!! (as clean as it will ever be)
I'm sure a few of you have been wondering why there have not been any updates to the site for the last few weeks (6-1-04 thru 6-13-04)....well, here is why: I've been working on setting up the new hangar and moving things out of storage. Most of you will remember that I started out in a hangar in my home town. Those days are LONG gone, but it IS time to get back into a hangar...this time with a completed airplane!
I'll be sharing this 'T'-hangar with another Berkut 360 and since we will be remaining here for quite some time, we decided to upgrade a few things to make the stay a little nicer. Originally, the hangar presented us with a dirty concrete floor, several bird nests in the rafters, ONE little electrical outlet, a switch and TWO 150 watt lights bulbs hung from the roof. (sigh...we knew this would take awhile) So, the first thing we did was hire a pressure washing crew to come out and pressure wash, steam clean and acid etch the concrete floor. They evened cleaned out the bird nests! Now, while the floor was drying (for over a week due to continuous rain) we borrowed the FBO's lift and wired up some 8ft. florescent lights over the rear work area and some 4ft. florescent lights over each plane parking area. Wow! We have LOTS of light now - and we are using LESS total current than the two lights bulbs that were originally there. We will be adding some small 2-bulb fixtures over workbenches that we will move in later. When it FINALLY stopped raining, I painted the floor with two coats of light gray 2-part epoxy (what else?) floor paint. Man, does this really look great, or what?!? We are still rather short on power...only one plug and about a 20-amp shared circuit. So, if it becomes a problem, we will have to go talk to the city about getting another circuit run ($$$$). For now...it runs a fan, and a radio...that's all we need.
Ha! Even Sandy got into fixing up the new hangar! She's already planning the hangar party. Hehe! Radar made a trip later that night...too bad I forgot the camera. Next time!
Well...the hangar is now a hangar - not just a storage area! Scott, my hangar mate, moved his mostly complete Berkut in! After moving the plane some 800+ miles, we were very happy that it made it all without any harm to the plane...or Scott either. Now, I'll be working to finish my plane up and move it out there too. After all, we wouldn't want Scott's Berkut to get lonely.
Next up...I sand my butt off...and move my plane out to the hangar for final assembly and inspection....soon...real soon!
---

Back to the Proto-page